Get Vedamo Virtual Classroom Integration credentials
Login at

vedamo.com or at your academy (*.vedamo.com).

Select the "

Integrations

" menu.

Select "

Canvas

". It will navigate you to the page "Integration with Canvas".

Click on the "

Enable LTI integration

" button.

It will generate a table with three rows – Consumer Key, Shared Secret and Launch URL. You will need them to integrate the Virtual Classroom in Canvas.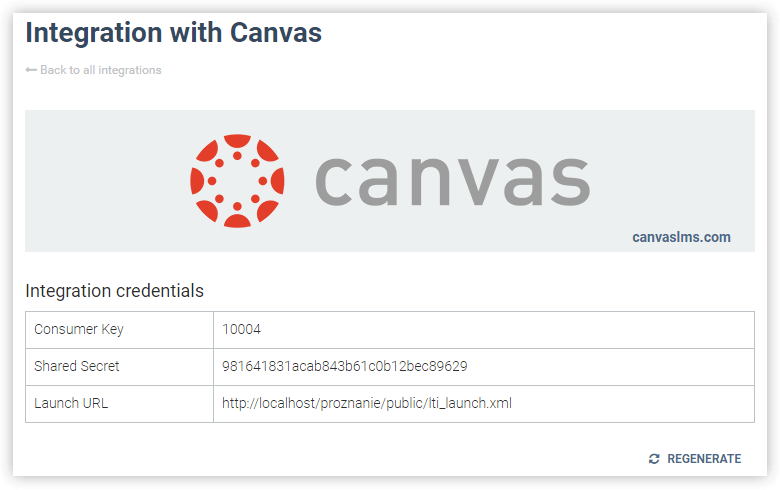 Integrate with Canvas (globally)
The integration is usually done by a Canvas Administrator since it applies to all teachers within the district. Please contact your Canvas Administrator or District/School Administrator to continue with the setup.
Use the steps below to integrate Vedamo Virtual Classroom within the Canvas system.
Login to Canvas
Select the "Admin" tab
Select "Settings"
Select the "Apps" tab
Click on "+App" button
In the modal window:

Configuration Type –  choose "By URL"
Name field – enter "Vedamo Virtual Classroom"
Consumer Key field – enter the Consumer key from the table above
Shared Secret field –  enter the Shared Secret from the table above (your Administrator can contact Vedamo at support@vedamo.com for your Key and Secret)
Launch URL – enter the Launch URL from the table above

Click on "Submit" to add the app to the system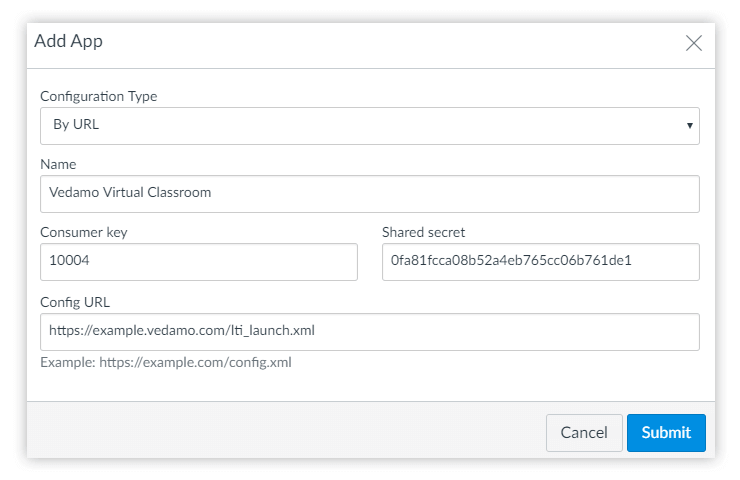 Integrate in a single course in Canvas
Use the steps below to install Vedamo Virtual Classroom within the Canvas course.
Login to Canvas
Select a course that will use Vedamo Virtual Classroom
Select "Settings"
Select the "Apps" tab
Click on "+App" button
In the modal window:

Configuration Type –  choose "By URL"
Name field – enter "Vedamo Virtual Classroom"
Consumer Key field – enter the Consumer key
Shared Secret field –  enter the Shared Secret
(your Administrator can contact Vedamo at support@vedamo.com for your Key and Secret)
Launch URL – enter the Launch URL from the table above

Click on "Submit" to add the app to the system