The first steps in live online teaching might seem intimidating and overwhelming at first. However, proper preparation and a positive attitude can improve your experience in each lesson in the virtual classroom. Get the best start to this new chapter in your teaching career with a few basic tips.
For many tutors live online teaching is a new chapter in their lives that creates countless opportunities to enrich their careers. Is online teaching the right choice for you (What is Live Online Tutoring)? The best way to find out is to give it a try. Teaching in a virtual classroom might seem intimidating for teachers who have little or no experience working with online teaching platforms.
With a little research, practice, and preparation, live online teaching has the potential to become your favorite way of teaching. The first lesson is usually the most difficult (even scary) for tutors who are just beginning their practice in a virtual classroom. Proper preparation before the lesson will give you the peace of mind and confidence to ensure a smooth and pleasant experience for you and your student.
How to get prepared for your first live online teaching session?
Choose a subject and a topic that you feel most comfortable about and confident teaching
When you are in your own element you'll feel less overwhelmed about the live online lesson. Start your online experience by teaching the material that comes naturally to you. The more experience you gain, the more confident you'll be when it comes time to tutor advanced lessons.
Choose a one-to-one session instead of tutoring an entire group
Start simple and choose to teach to only one student. In this way you won't worry about class management during the lesson. You will be able to focus entirely on one student instead of teaching multiple pupils.

How to get prepared for your first live online teaching session?

Choose your online teaching platform and watch and/or attend online classes
The best way to get a real understanding of the experience of the virtual classroom is to take part in a lesson and observe the tutoring styles of other teachers. Get inspired by your colleagues' methods and think up ideas on how to improve your own lessons.
Practice in the virtual classroom
Spend enough time researching and trying out the various features that are offered in the classroom. For example, try the share-screen feature, use the interactive whiteboard, test adding multimedia, etc.
Rehearse the lesson
Once you've planned your first live online teaching lesson, make time to rehearse it. This way you'll have a better idea of how much time you will need for each exercise, game, or test. If you need to make any adjustments, you'll have plenty of time to do so, which will make the lesson even more effective and interesting.
Ask for advice. Research different teaching techniques
Be active in researching different techniques for the creation of rewarding online lessons. Don't be shy to ask more experienced colleagues for advice. You can explore various resources for teachers like libraries, specialized websites, forums, Facebook groups, etc.
Learn about your students in advance
When you know a bit more about your students, like their interests, experience in online studying, etc., it will help you create a bond and make your lesson more interesting. This tip is especially helpful when tutoring kids.
Lower your expectations
There is a good chance that your first live online teaching lesson will go smoothly. However, if something doesn't go according to plan, don't be disappointed. Practice makes perfect. Your online teaching experience will get better and better with each lesson.
Plan the lesson to be interesting and to the point
Avoid overloading the first session with lots of material and information. Use less features in the virtual classroom until you gain more experience and confidence in live online teaching.
Write down the opening and closing of the lesson
When you are preparing for the online lesson, don't forget to rehearse ideas for different openings and closings of the session. It is helpful to write down a few sentences that you can use if needed.
Schedule your lesson at a time when you can rely on technical support for the platform in case of issues
You'll feel more calm and confident when teaching your lesson online if you know that you can ask for help from technical support at any time. This is especially important for the first live online teaching session before you've gained more experience teaching in virtual classrooms.
Don't panic in case of problems
Write down instructions on how to react if there are issues with the platform or the equipment.
Test your equipment and features before the lesson
Log in at least 15 minutes prior to the lesson and test your equipment: audio, sound, microphone, recording feature, multimedia, links you have included in the lesson, etc.
Choose a calm and simple place for your live online teaching sessions
Find the perfect place for your online teaching where there are no distractions and noises. The best places have clean backgrounds that won't distract the student.

Choose a calm and simple place for your live online teaching sessions

Have a proper appearance
Even if you are teaching from the comfort of your home, you should treat your job with the same seriousness as a regular job. Make sure you are dressed appropriately.
Turn off any distractions
Before your live online teaching session begins, silence your phone and close all applications that might distract you, such as social networks, YouTube, etc.
Relax
Give yourself enough time to relax and feel calm before the online lesson. If you practice meditation, this is a good time to relax your mind and improve your focus. You may want to keep a water bottle handy.
Smile and have a friendly attitude. Enjoy your experience
When you have a positive attitude, you'll create a more pleasant and friendly atmosphere in the virtual classroom. The first live online lesson marks a new chapter in your teaching career that gives you more opportunities to develop and enrich your tutoring experience. Enjoy every moment of it and create the best value for each lesson.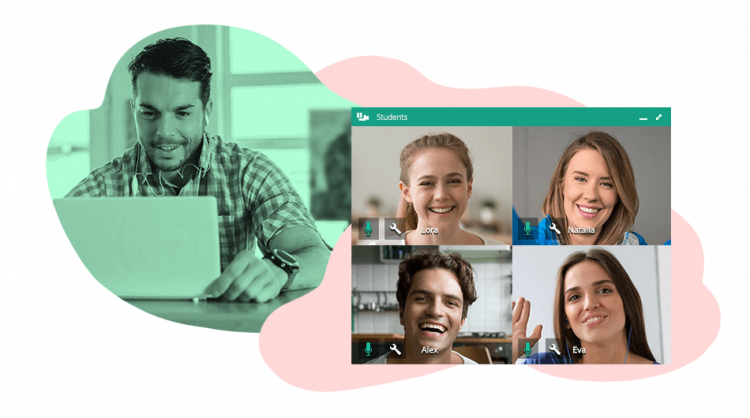 Live online teaching is the closest thing to face-to-face teaching in a real classroom.
You'll discover a rich diversity of new features that will enrich your teaching practices and make every lesson more interesting and compelling. With online tutoring you'll interact with students from around the world and exchange knowledge about different cultures, traditions, and ways of life.