What is better than 13 badges in the G2 Fall report? We can tell you – 18 badges for VEDAMO Virtual Classroom in the G2 Winter 2023 report. Users love us once again, and even more!
We were listed as the best and highest performers in 5 categories: Classroom Management, Digital learning platforms, Language Learning, Online Learning Platform, and Virtual Classroom.
VEDAMO is proud to be qualified as a platform with the fastest implementation and highest ease of use in the Small business category. Our product was again acknowledged in the Best Meets Requirements, and for the first time we were highlighted for our efficiency and profitability in the Best Est. ROI (return on investment).
G2 is the world's largest and most trusted software marketplace. More than 60 million people annually — including employees at all of the FORTUNE 500 — use G2 to make smarter software decisions based on authentic peer reviews. Technology buyers, investors, and analysts use G2 to compare and select the best software. The data is gathered and released on a quarterly basis and includes the reviews of real users.
Take a look at what our customers have to say about us:
Aqeela M.

Managing Director

Small-Business

(50 or fewer emp.)

11/03/2022

"As an online educational company, Vedamo allows us to carry out our online classes. The Vedamo virtual classroom has proven to be more than adequate for our daily & weekly classes, individual & group classes for primary and secondary levels of various subjects. We can manage our teachers in their live classes along with the LMS."
Luis M.

Elementary School Teacher

Small-Business

(50 or fewer emp.)

10/28/2022

"Online teaching can be very difficult but the Virtual Classroom has all the tools kids are already familiar with. I can upload documents, media, clips, and write on the Whiteboard. PPTs and templates are also great options!"
Verified User in E-Learning

Small-Business

(50 or fewer emp.)

07/05/2022

"Vedamo has created an excellent teaching platform. This has enabled our company to create a network of teachers and students that can connect from across the world, all at a very reasonable price."
Have your say, too! Leave a review on VEDAMO Virtual Classroom HERE.
Compared to its competitors, VEDAMO excels in Whiteboard features, Multimedia Ease of use, Quality of Support, Product direction, Integrations, Partnership, Likelihood to recommend, Multimedia content. We are aligned to standards and have the highest rate for Mobile compatibility.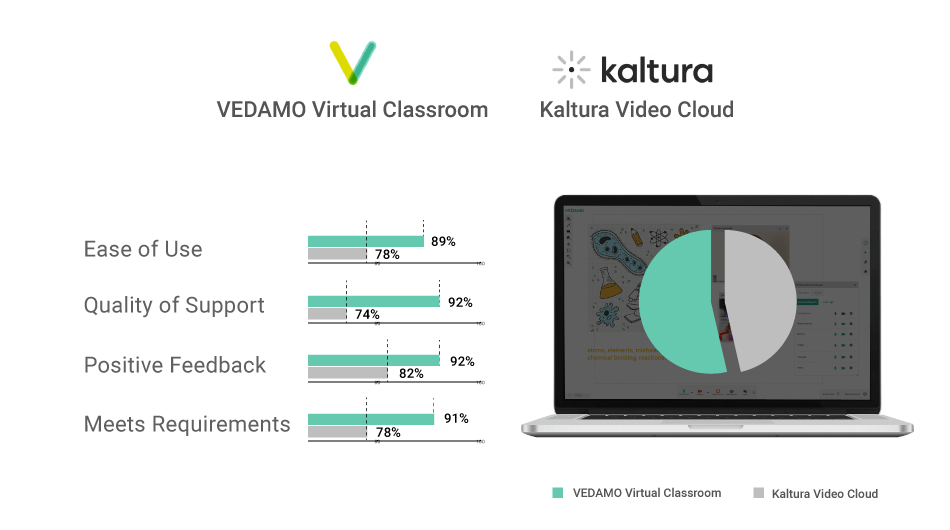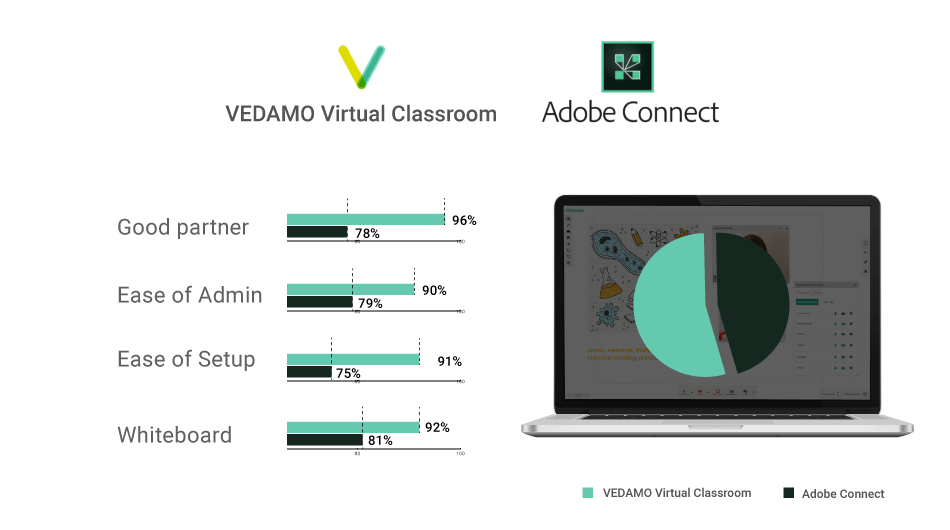 VEDAMO is rated as the number one platform that is likely to be recommended. As far as ease of setup and administration is concerned, we are given the top scores too. 91% of users define VEDAMO as intuitive and easy to use.
Our friendly human 24/7 live chat support is highly appreciated by 92% of our users.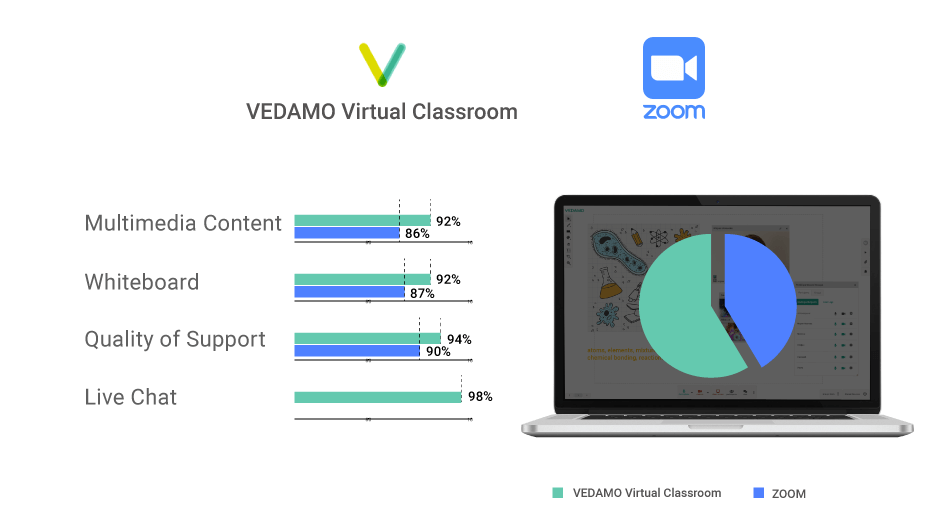 We are proud to be pointed out as a good partner for doing business by 96% of the users. This shows how much we value our customers and do our best to create and keep a healthy and lasting relationship with them.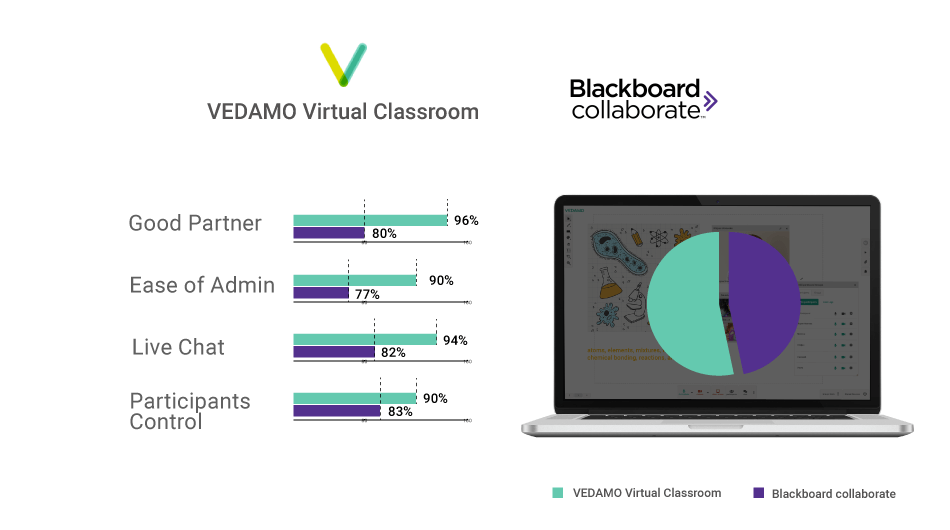 Not least of all, VEDAMO is now even more motivated to keep improving and adapting to customers' needs, because we are steadily moving up in the list of top virtual classrooms among numerous live online teaching platforms.