Great news! Wе are proud to announce that VEDAMO Virtual Classroom was awarded in 7 categories in the G2 Fall Report 2022. We smashed it – Momentum Leader and High Performer Badges! VEDAMO is in the TOP 3 for Virtual Classroom and Language Teaching platforms categories for the last quarter. This recognition is based on the responses of real users. Apart from this, our product was acknowledged in the field of customer care and satisfaction as having a High quality of support, and in the Best Meets Requirements category too.
G2 is the world's largest and most trusted software marketplace. More than 60 million people annually — including employees at all of the FORTUNE 500 — use G2 to make smarter software decisions based on authentic peer reviews. Technology buyers, investors, and analysts use G2 to compare and select the best software. The data is gathered and released on a quarterly basis and includes the reviews of real users.
Take a look at what our customers have to say about us:
Administrator in Education Management

Small-Business

(50 or fewer emp.)

08/15/2022

"The virtual classroom is easy to use and safe and secure for children and adults. 1: Customer services is outstanding. There has never been a time when someone has not got back to me. 2: I have been using it from around 2020 and think that in my two years it has been the best classroom I have used. 3: I stay and put up with all the other issues as I like the virtual classroom because: – can teach on multiple pages – play games like bingo, snakes and ladders and do quizzes – it is easy to do break out rooms or just have students working on different pages – you can rename the pages. – like how secure for children the virtual rooms are – can create permanent links so they use it all the time – upload pdf's / word docs and mark on them very easily – Can upload images 4: BEST THING 😊 – can do a 'print screen' from anywhere on my PC or internet and paste it into the classroom. This is an excellent feature and saves time if I do not want to screen share. I love this feature. I have not found another platform that does this so well."
Marina O.

Freelance Partner with Greek, Bulgarian and English

Small-Business

(50 or fewer emp.)

07/12/2022

"VEDAMO is easy to use by teachers and students and offers great features for enriching the content. It makes the lessons really interactive without shifting the focus from the class."
Ariana M.

Digital Resources Trainer in Education

Small-Business

(50 or fewer emp.)

07/04/2022

"On the platform we can have everything we need for our lessons, links, embedded pages, videos, books, audios, permanent links and the best is the possibility you have to download a PDF of your session and share it with your participants. My students love it 😊"
Matthew J.

Private Tutor

Small-Business

(50 or fewer emp.)

01/25/2022

"The instructiveness and extra features that Vedamo has available makes the lessons so much better than using competitors like Zoom or Teams."
Compared to its competitors VEDAMO excels in Whiteboard features, Ease of use and Quality of Support.
97% of our customers share that VEDAMO is a reliable partner and that it has made it easier for them to manage their business.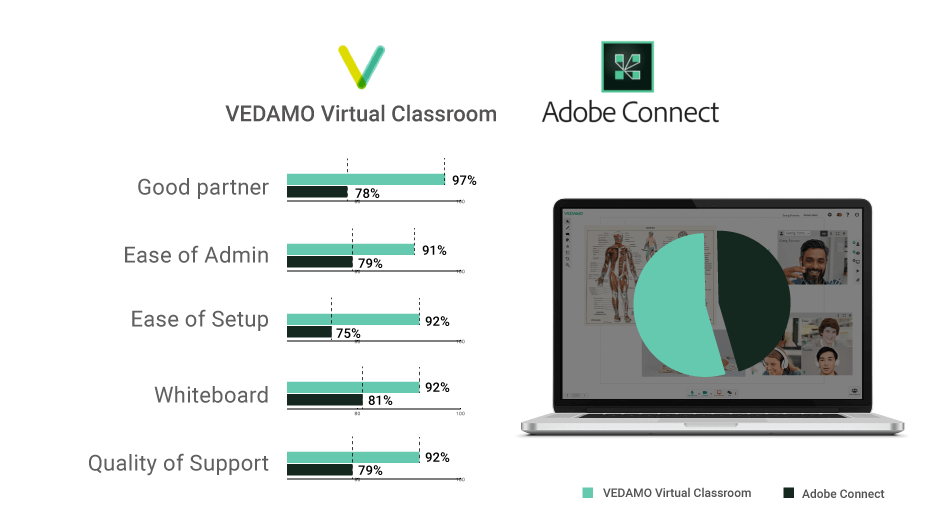 VEDAMO is rated as the number one platform that is likely to be recommended. As far as ease of setup and ease of administration is concerned, we are given the top scores too. Our friendly human 24/7 live chat support is highly appreciated by 94% of the users.
Language teachers point out the advantages of VEDAMO in multimedia and video streaming, as well as the ease of managing the class via participant controls.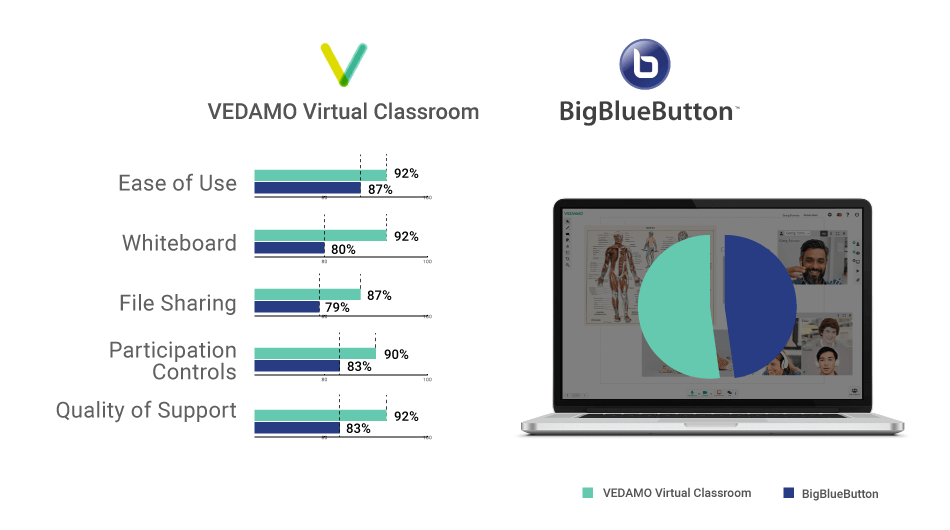 We are proud to have reached the highest overall satisfaction score, based on customers' reviews and feedback. We value our customers' opinion and take guidance and advice from them as we want to stay with them for a lasting relationship.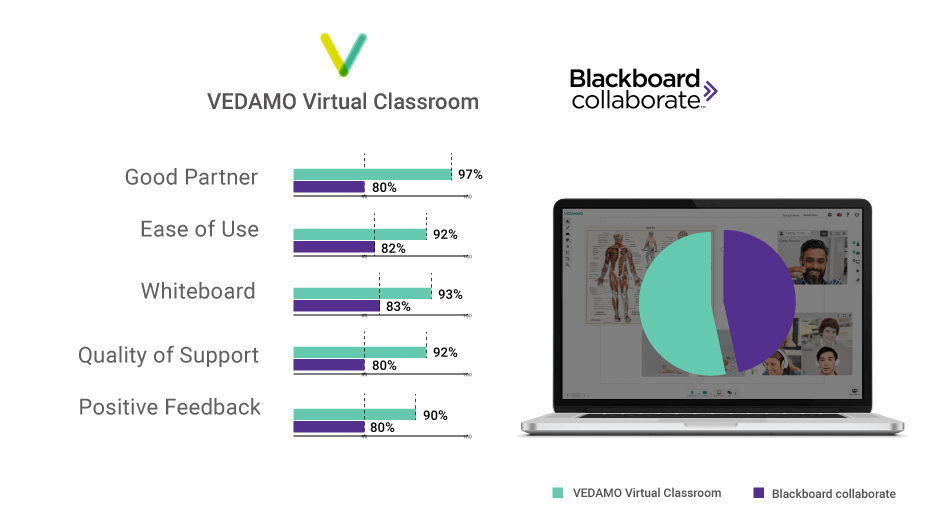 Last but not least, a rewarding fact from the G2 Fall report is that VEDAMO has become one of the high performers among the numerous online live teaching platforms today. We made great progress during the year. VEDAMO reaches a TOP 3 place in the virtual classroom category for 2022.