G2 is the world's largest tech marketplace where people can share experiences and evaluate software products. G2 releases quarterly reports and awards badges in various categories based on reviews of real users.
We are very excited to hear again that our users love us! VEDAMO has 4.6 (out of 5) stars. 96% of our users have awarded us 4 or 5 stars, 88% believe we are headed in the right direction, and 92% said they would be likely to recommend VEDAMO Virtual Classroom.
What do our users share?
Andy C.

Translator (English, German, French)

Small-Business

(50 or fewer emp.)

02/01/2022

"It is easy to use, both for the teacher and students. The sound quality is excellent, even with students in other (European) countries. The central whiteboard is perfect for interactive activities."
Teodora S.

Qualification Coordinator

11/22/2021

"VEDAMO is a user-friendly learning platform. This was an essential point for me. Very easy to use and intuitive, VEDAMO offers an efficient way of having online courses even with learners that are afraid of online learning or not very comfortable with it."
Lyubka A.

Associate Professor

05/25/2021

"It is great VLE for easily organizing interactive sessions with students. The best for me are the unlimited opportunities for collaborative work of the students – not only the breakout rooms, but also the in-build text editor and timer. These tools advance over the other virtual classrooms and always make me choose VEDAMO!"
Olivier C.

Chief Executive Officer and Founder

Small-Business

(50 or fewer emp.)

11/04/2021

"VEDAMO is a very practical tool to teach, extremely interactive between students and teachers, with the possibility to fill in forms and exercises on the virtual board and being corrected live by the teacher. Works like a real classroom, with all sharing functions also."
---
VEDAMO also received a Momentum Leader Badge and ranked as a High Performer on the G2 Spring Report 2022  based on customer satisfaction scores compared to the rest of the category.
Comparison charts
See the comparison charts, based on the users' experience and feedback on G2 platform: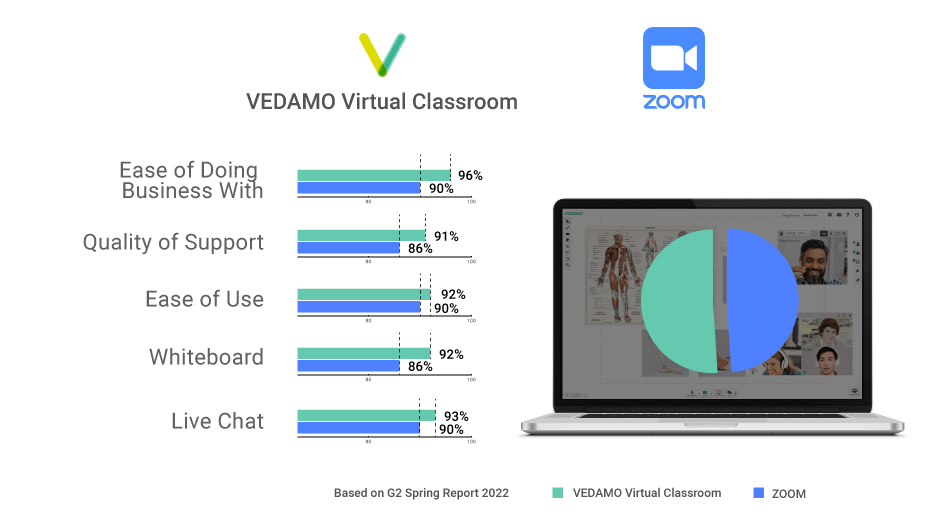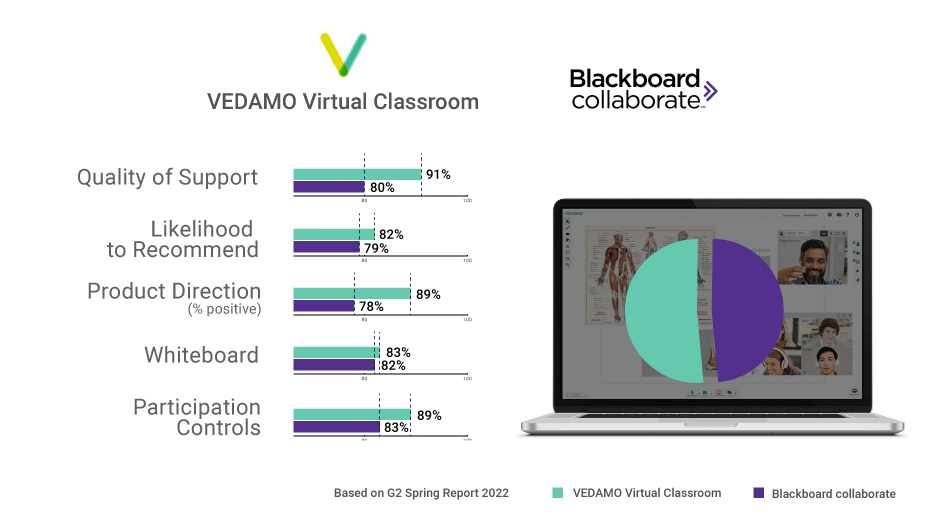 VEDAMO excels its main competitors regarding the ease of use, the whiteboard features, and the quality of support. 92% of our customers think that our platform is easy to use and like our online whiteboard more than our competitors' whiteboards. Our 24/7 support is also highly appreciated by the users as 91% provide positive feedback on its quality.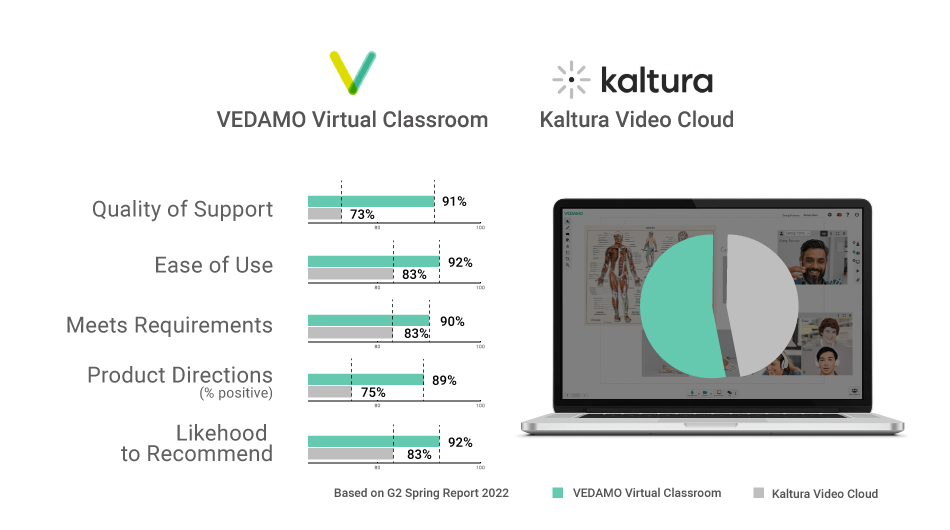 Tools for participation controls are something that most of the other platforms lack but our users highly appreciate.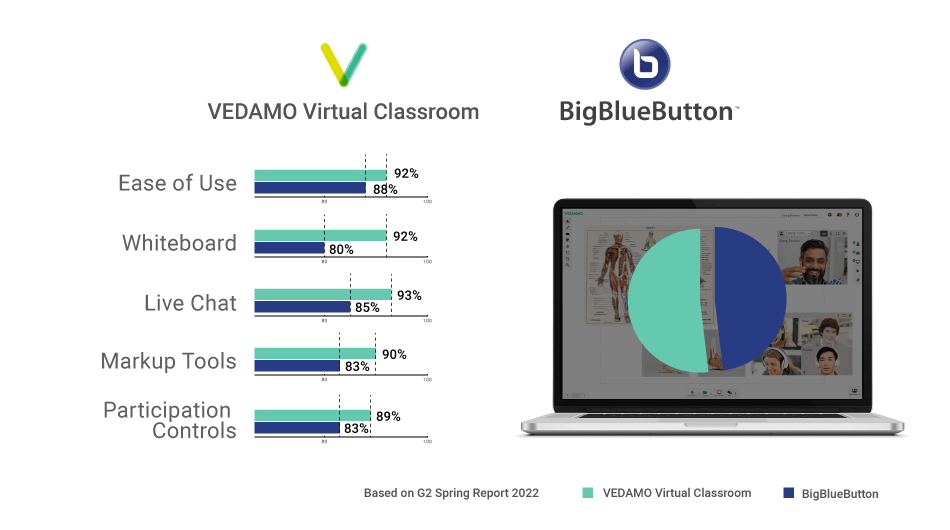 In conclusion, 96 % of our customers are satisfied with the ease of doing business with VEDAMO. That makes us really proud as we value our customers' needs.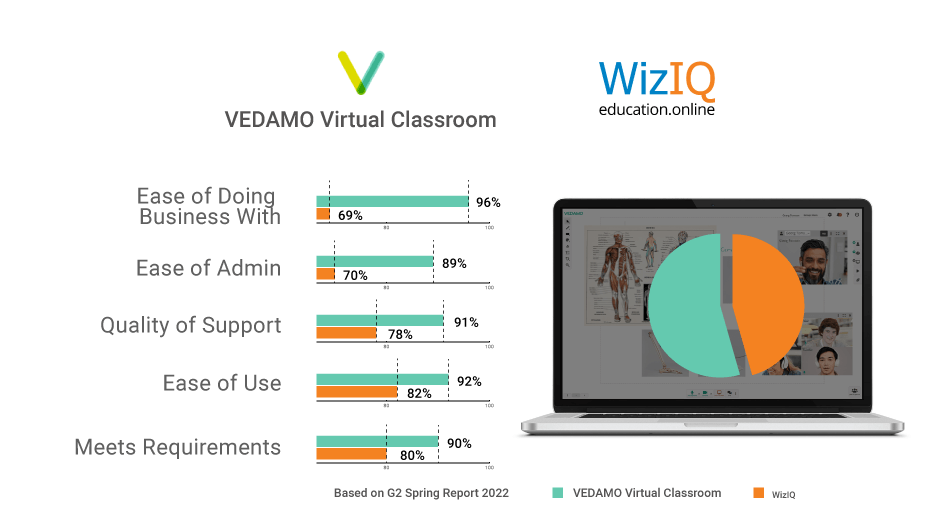 VEDAMO Virtual Classroom is also in the Tutoring, Special Education, Language Learning, Digital Learning Platforms, Classroom Management, and Online Learning Platform categories on G2 platform.