Online teaching has affirmed itself as the new normal in recent years. From school and exams to crash courses and educational programs, the virtual classroom has become the basis of all learning activities. The future of e-learning might have been easily predicted by the new technological and sociological trends that have had a massive impact on the whole education system. Therefore, it's no surprise that online teaching will continue to evolve as innovative technology challenges the status quo. Please continue reading this article, as we will discuss the top 5 trends in online teaching for 2023 that will enhance students' learning.
TABLE OF CONTENTS:
Top 5 Trends in Online Teaching for 2023: Cohort learning
Cohort learning is an instructional strategy for organizing students into small groups (cohorts) based on their abilities, interests, or other factors. The goal of cohort learning is to create a collaborative learning environment where students can work together to achieve common goals, share knowledge and experiences, and support each other in their academic endeavors. Furthermore, it is used in higher education settings, where students are typically more mature and capable of working independently. This approach to instruction can be particularly effective for promoting active learning, critical thinking, and problem-solving skills.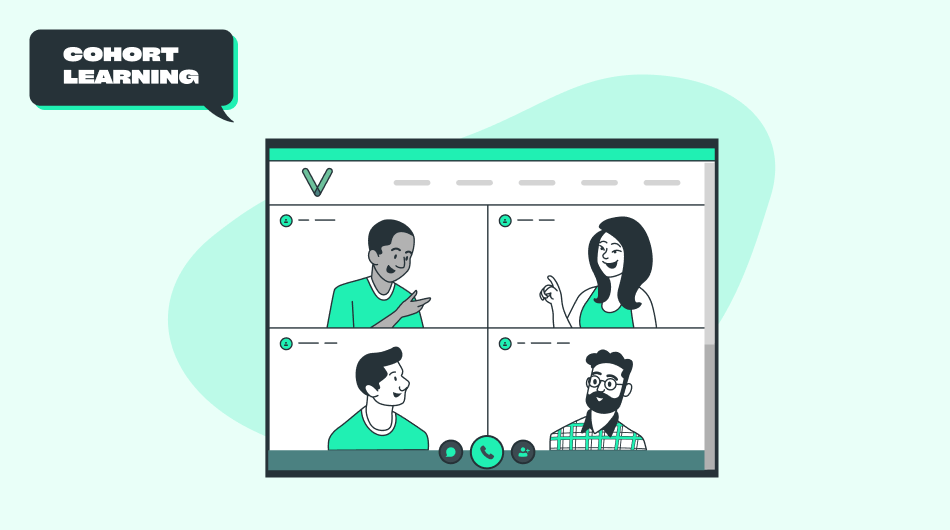 Cohort learning can be applied in the virtual classroom by grouping students into breakout rooms and assigning them tasks to work on together. The groups can then discuss the topic the teacher set and help each other with ideas and instructions. Furthermore, the team can share their progress and work with the larger class, allowing peer feedback and engagement. Teachers can also provide support and guidance to the group throughout the process
Top 5 Trends in Online Teaching for 2023: Personalized learning
Personalized learning is an instructional approach that involves tailoring education to the individual needs, abilities, and interests of students. It aims to provide students with a customized educational experience and help them achieve their full potential.
Personalized learning often involves the use of technology to provide students with access to a wide range of learning resources and tools, including online courses, tutorials, and educational games. This approach also supports data analytics to track student progress and identify areas where they may need additional support or guidance.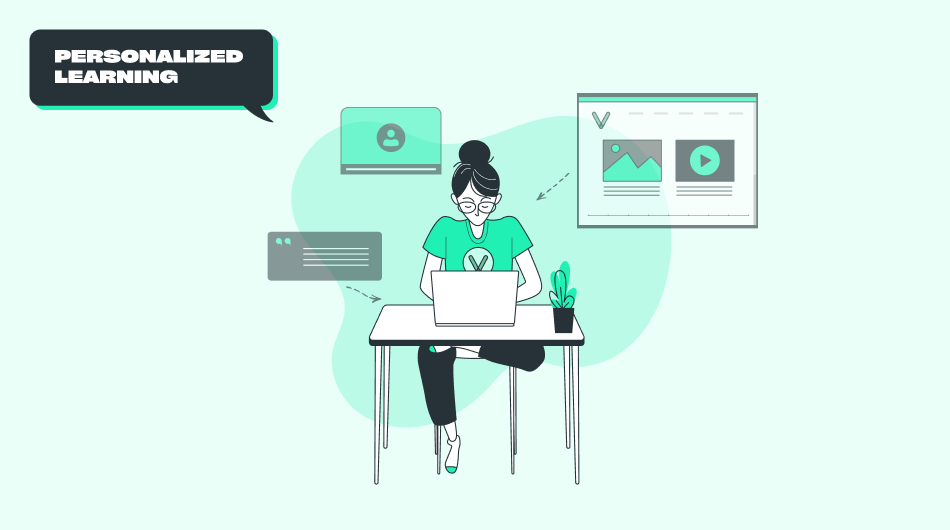 In a personalized learning environment, students are encouraged to take an active role in their learning and to take ownership of their education. In VEDAMO's virtual classroom, teachers can create session templates relevant to the specific topic and students' expectations in terms of material. By utilizing this tool, teachers promote engagement, motivation, and academic success.
Top 5 Trends in Online Teaching for 2023: Project-based learning
Project-based learning is an instructional approach that involves organizing learning around the completion of a project. This approach aims to provide students with a real-world, authentic learning experience that is engaging, relevant, and challenging. It promotes the idea that students are more likely to be motivated, engaged, and successful when working on a project with a clear purpose, audience, and outcome.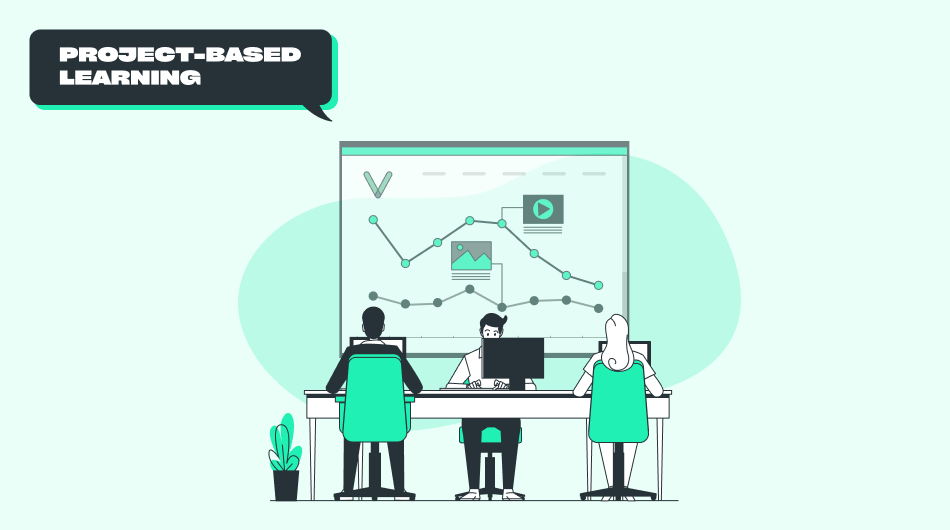 In a project-based learning environment, students work in teams to complete a project that addresses a real-world problem or issue. For example, if students have to create a business project in the entrepreneurial class, they should perform research, build a prototype, and present it to their classmates. Learners utilize different technology tools, such as computers, tablets, or smartphones, to support the completion of the project. Employing video conferencing, students can collaborate on projects and perform tasks in real-time. In addition, project-based learning often involves using and developing soft and hard skills:
Creation of videos, gifs, and other forms of animated media
Research
Presentation and public speaking skills
Top 5 Trends in Online Teaching for 2023: Immersive learning
Immersive learning is an instructional approach that involves creating a realistic and engaging learning environment that immerses students in the content and concepts taught. It aims to provide students with a deep, experiential learning experience that is engaging, interactive, and authentic. This approach involves innovative technology, such as virtual and augmented reality, to create a realistic and engaging learning environment. Tutors can easily implement the use of AR applications in online sessions. Here is a way to include immersive learning in a chemistry class:
The tutor needs to enter the virtual classroom via PC or smartphone with an installed chemistry AR application.
Then, teachers, if using a PC, should turn on the video camera and show the virtual object. If using a smartphone, teachers can enter the educational app and share their screen.
Teachers could explain different features and characteristics by manipulating the object. Thus, learners can visualize all the abstract atoms, molecules, and chemical reactions.
Meanwhile, the teacher can explain the topic, and learners can ask questions.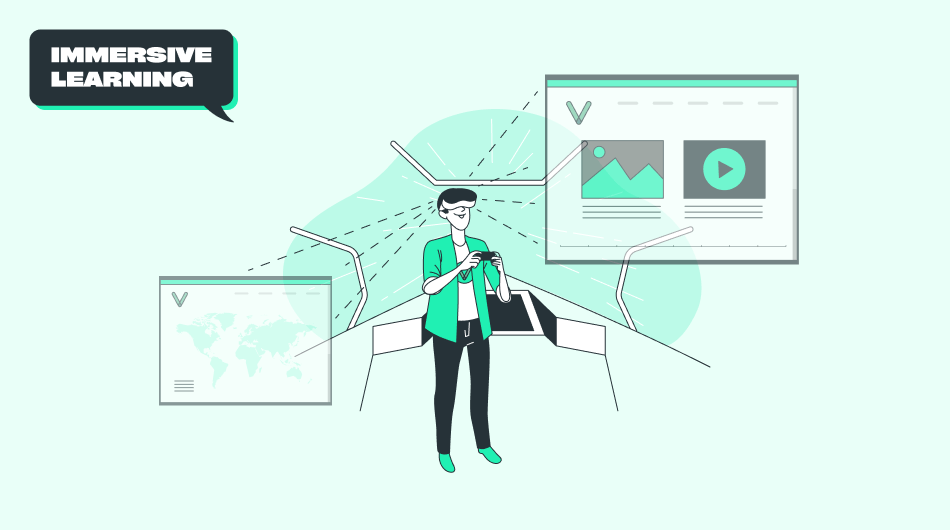 Top 5 Trends in Online Teaching for 2023: Artificial intelligence and automation
Artificial intelligence (AI) in education involves using technologies, such as machine learning and natural language processing, to support the delivery of a personalized and engaging experience.
AI can be used in a variety of ways, including:
to support the delivery of personalized instruction
to provide real-time feedback and support to students
to assist with grading and assessment
to support the management of administrative tasks
Also, artificial intelligence may automate administrative tasks, such as scheduling and record-keeping, to facilitate teachers in delivering personalized instructions and to assist with grading and assessment. Thus, it improves the efficiency and effectiveness of educational practices.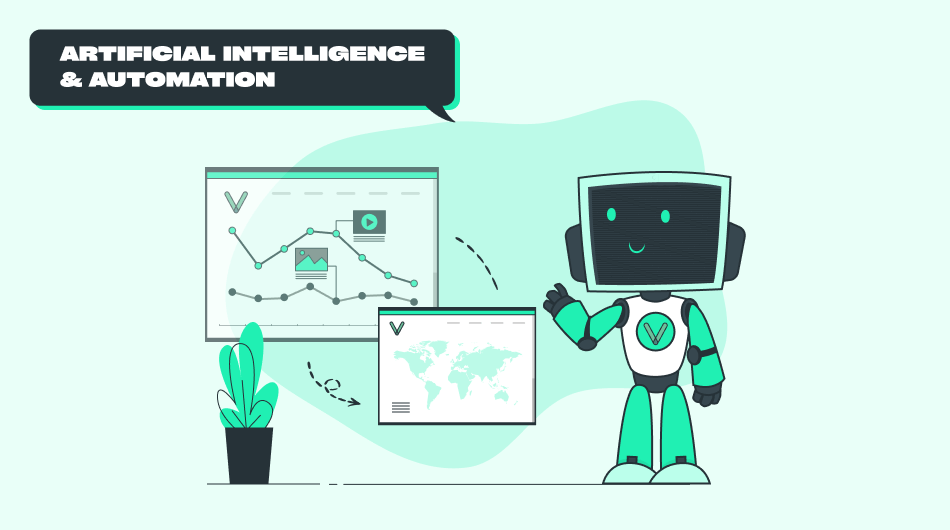 Innovations in educational technology create excellent student results primarily by simplifying the learning process and presenting complex information easily and in an engagy way. However, none of these innovations will be possible without a system that manages all the sessions and materials in one place. Therefore, before hopping into the world of high technology, you have better create a solid ground for all the processes you want to occur and the information you want to deliver to students.