The online whiteboard creates an inclusive space, which is a major breakthrough for those with learning disabilities. Students formerly labeled as disabled now have a world of previously unavailable information available at their fingertips. Find out how to facilitate inclusion for all by making the best of the online whiteboard.
"For most people, technology makes things easier. For people with disabilities, technology makes things possible." – Mary Pat Radabaugh, Former Director of the IBM National Support Center for Persons with Disabilities
Web conferencing with the online whiteboard makes it possible for all to access lifelong learning, skills, and employment. This culture of inclusion is at the heart of the universal design movement that is currently trending in education. It urges educators to create a learning space that can be universally used by anyone, regardless of their abilities and knowledge.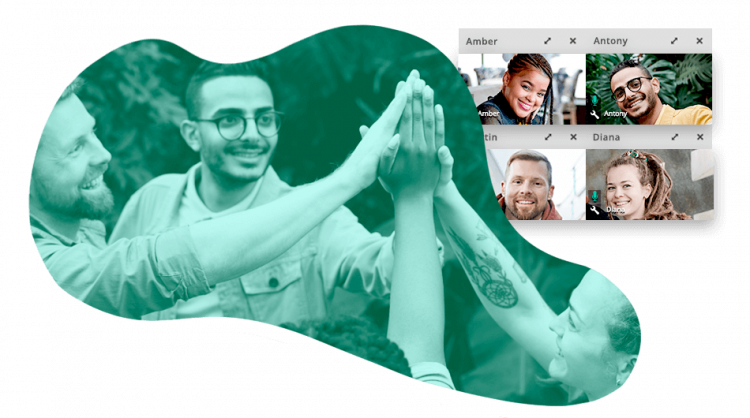 A significant part of society, estimated at 15% of the world's population, faces obstacles in education.
A third of these people have a learning disability, and their intelligence levels range from borderline to superior. In other words, students with a learning disability may be as smart or smarter than their peers. These neurological disorders are often related to visual or cognitive difficulties in information processing. The umbrella term encompasses various conditions such as language processing disorders, dyslexia, and dysgraphia. Learning disabilities cannot be cured, but people who have them can achieve success in school, work, and life.
How does the whiteboard help with inclusion?
Some disabilities are hard to recognize. Therefore, instructors have been promoting wider participation in education. The online whiteboard is the building block of inclusion in the virtual classroom. Teachers' accounts of interactive technology use with disabled students are overwhelmingly positive. The following benefits have been repeatedly highlighted:
Multimodality – In the past, old-school textbooks froze lessons in a single print format. The modern school uses digitized information that can be rendered in various modes for a wide array of needs. For example, people with dyslexia have a holistic approach to information processing, but stumble when sequencing words, spelling, and reading. Scholars at The Open University showed how the online whiteboard facilitates multisensory activities to improve language learning. For example, dyslexic students can be asked to match words scattered on the canvas with the correct image. Moreover, the online whiteboard lets participants work collaboratively, which further boosts engagement and overcomes barriers.
Interactivity – The online whiteboard gives opportunities for both explicit instructions and immediate feedback. It enables multiple pedagogical approaches and lets educators keep a close eye on their pupils' performance before they fall behind.
Differentiation – Teachers report how easy it is to differentiate content on the interactive whiteboard by using visuals and highlighting. This is how attention and interest are attracted.
Data based decision – making. Web conferencing tools provide immediate access to the participants' performance data. Instructors can scrutinize changes in the classroom and customize the pace and materials to meet unique learning needs.
Efficiency – Creating accessible content is much easier and far less expensive with the online whiteboard.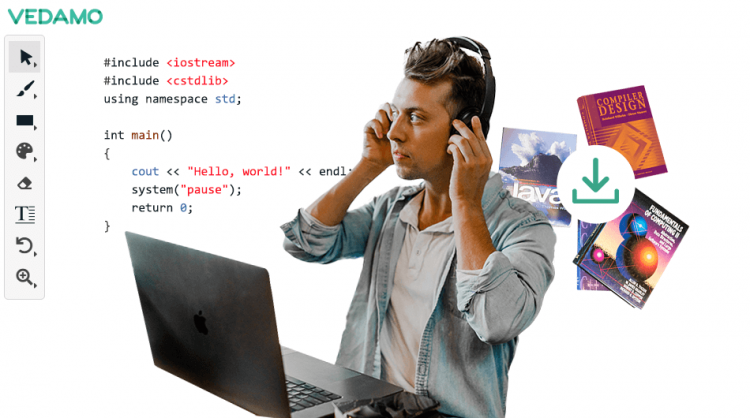 How to make your online whiteboard content accessible?
Educators need to make sure information on the online whiteboard is accessible. This short list will help you design clear content for learners with specific needs, as well as for those with no apparent impairments.
Be learner-centered. Products such as VEDAMO's online whiteboard make it possible for all students to be in the center of the learning space. A collaborative work environment is a must for inclusion processes. Moreover, some students with impairments are shy and they appreciate the safe space that the online whiteboard provides.
Make your course content granular. Chunking information into bite-sized pieces is recommended for all students, especially for those with learning disabilities. It is not only size that matters. VEDAMO's online whiteboard has various tools for adding descriptive headings or colored text boxes and organizing the canvas into sections. Well-thought-out design enables users with special needs to navigate through the whiteboard.
Use graphics. Those with learning disabilities often comprehend material better if visuals are used. In fact, Richard Mayer at the University of California proved that there is an 89% increase in learning when a relevant graphic is added to words. Don't overdo it though. Only relevant graphics enhance learning. Pictures that do not support the content may do more harm than good.
Be color-smart. In a similar vein, working with contrast is a great idea, but make sure that you are not using color alone to convey information. For example, you may decide to use a map of the United Stated with the eco-conscious states colored in green and the rest in red. This is a trap! The most usual form of color blindness is not distinguishing between green and red. Color blindness may not be a learning disability but decoding course content should be easy for all.
Mind your data. Here is an example of how headers are often used in tables.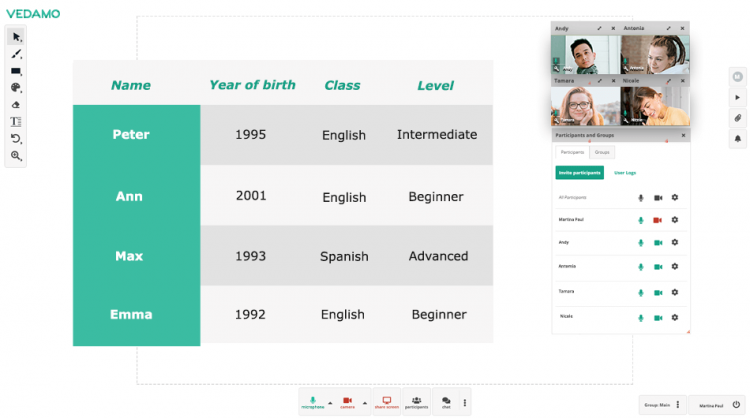 The information in a cell only has meaning if the row and column headers are considered. However, for someone with a learning disability such as dyslexia, it may be difficult to make the connections. Even if tables are useful to present a lot of data in a compact form, it's best to keep them on the small side. At the end of the day, who wants to read a large table on the online whiteboard? A good practice is to cut a large table into smaller ones, and to give descriptive captions with a summary of content.
Web conferencing software with whiteboard functionality is a means of improving the quality of life for those with lots of hope and some deficits. Disabled people are the world's largest minority, and the numbers are rising. Virtual learning using tools like the online whiteboard helps to close the disability gap by providing multiple means: a means of action, engagement, and self-expression.