Hybrid Learning has become an efficient solution to the challenges of our current educational context. The combination of traditional in-person classroom techniques with technology-based remote schooling practices is a successful approach to the highly demanding and dynamic environment induced by the pandemic. As part of blended learning, hybrid learning has proven its effectiveness through its multiple benefits for learners and teachers alike. Amongst these are its flexibility, affordability, comfort, accountability, and many more. Regardless of all of the changes to the educational environment that may occur in the foreseeable future, hybrid learning will most probably grow and evolve in the logical direction of becoming the best and most popular teaching strategy.
TABLE OF CONTENT:
Hybrid Learning – Definitions
The hybrid learning setup is a combination of face-to-face classroom activities and online educative practices. It is a type of a synchronous process that happens both physically and remotely. In this approach, teachers deliver live instructions simultaneously in the classroom and online. The remote sessions can include pre-recorded lectures, multimedia content, channels for discussions, self-teaching elements, etc. Thus, learners are engaged in collaborative, entertaining, and varied educational experiences.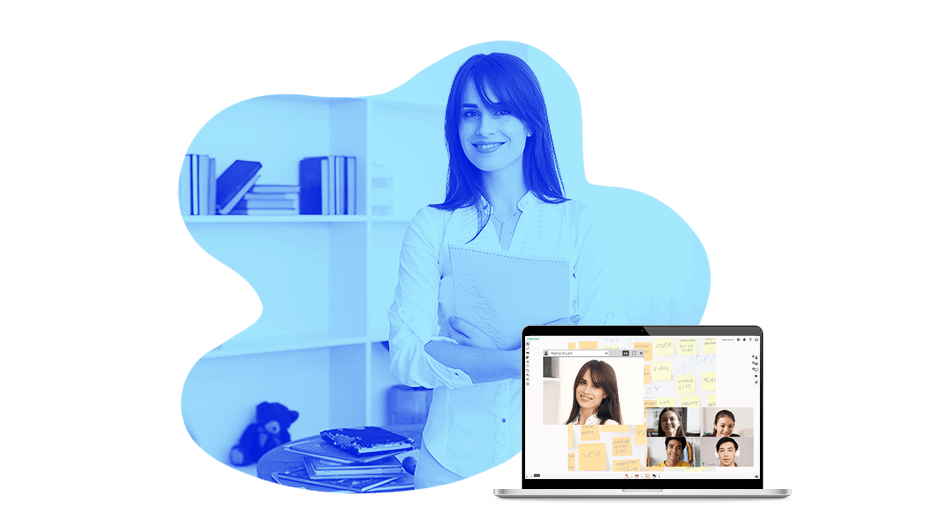 Research, confirmed by practice results, has proven that effective hybrid learning allows students to follow the teaching instructions, interact with content, and engage in a multitude of activities before, during, and after the physical classroom experience.
For a further understanding of the essence and specifics of hybrid learning, some basic definitions should be considered:
Face-to-face learning – traditional teaching methods, with a minor level of technology installed in a physical classroom.
Online learning – an entirely remote schooling process, like the Virtual classroom.
Flipped classroom – a setting where students are introduced to content at home and practice working through it at school.
Blended learning – a model where remote learning practices are combined with in-class teaching; teachers and students should be physically present for the majority of the schooling time.
Hybrid learning – a particular type of blended learning, where teachers instruct in-person and remote students at the same time; asynchronous teaching methods are used to supplement synchronous, face-to-face instruction.
Hybrid learning should be considered more as an educational strategy than a set of procedures. When implemented, it represents an efficient concept that combines and puts forward a wide variety of teaching practices that are part of blended learning.
Hybrid Learning vs. Blended Learning
Any combination of traditional classroom education with digital technologies can be considered blended learning. Often, the term describes the practice of including online self-study as a support to in-person teaching. Blended learning encompasses all educational methods that integrate digital technologies, especially internet learning tools and systems.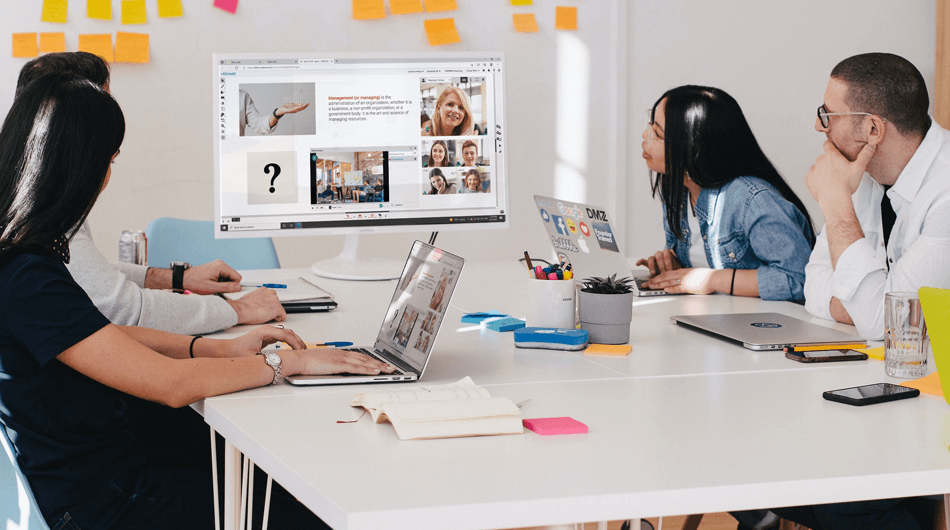 Hybrid learning, as a narrower term, refers to synchronous lessons that are taught live and remotely at the same time. The main difference between the two approaches is that hybrid learning focuses on both face-to-face and online learning, with no preference for one or the other. In blended learning, instructions are given online to complement and supplement the in-person classroom sessions.
Many education professionals believe that hybrid learning is the most successful part of the blended model and will keep trying to demonstrate its significant advantages throughout the years to come.
The Benefits of Hybrid Learning
It is undeniable that hybrid learning outmatches both the traditional schooling model and online-only education. The reasons for its superiority reside in a balanced combination of many distinct advantages that are characteristic of both the in-person and remote approaches.
Hybrid learning offers a multitude of interdependent benefits, some of which are:
Flexibility and efficiency – learners can attend classes from anywhere, anytime; they can select subjects and activities and choose between remote and in-person learning sessions.
Affordability and mobility – hybrid learning reduces or removes the cost of study materials, transportation, visas, room and board, and tuition fees. It facilitates mobility and gives larger access to educational courses and programs.
Security and comfort – online testing and evaluation eliminates the need to be present at specific locations and interact physically and thus reduces the stress involved in the process of in-person exams.
Freedom and privacy – hybrid learning allows students to benefit from a desired level of independence; they can choose to remain shy or be proactive according to their will or temperament, and can take advantage of the online as well as of the classroom setting.
Time management and reduced absenteeism – hybrid learning motivates both students and teaching professionals to make the most of their time and resources, which allows them to dedicate themselves to the task at hand at a time that works best for them. This reduces the risk of students missing or skipping classes – a tendency that is normally observed in the traditional schooling model.
Accountability and follow-up – hybrid learning allows for easier follow-up on the educational tasks that are assigned, as well as for better tracking of progress and results.
Differentiation and personalization – different students need different support as they learn at their own pace. With hybrid learning, they can set up their own schooling environment and arrange their own programs.
Engagement and control – hybrid learning leads to higher engagement because students feel more in control of the process, and at the same time can receive face-to-face support, and have varied interactions with teachers and peers.
Reduced digital fatigue – hybrid learning is a sensible combination of both classroom and online activities, which can ease the burden of staying in front of screens for hours through in-person interactions and experiences.
Up-skilling the educators – the hybrid model helps teachers to train and assess students in a more productive way, to save time and optimize the educative experience for the learners through the use of internet tools, and make the most of contemporary digital technologies.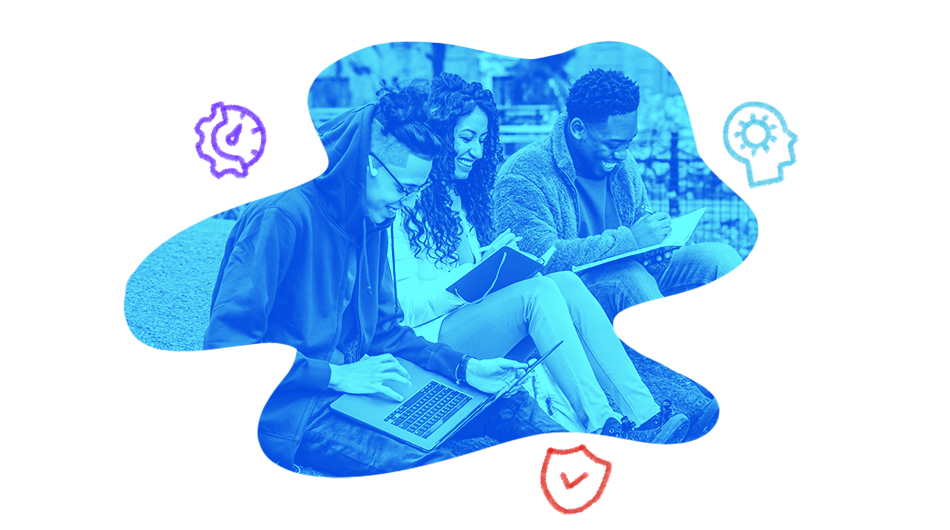 Despite the fact that the pandemic had a tremendous impact on teaching and learning around the world, one of the most positive results of this extreme situation was an increase in the accessibility of education worldwide.
Hybrid Learning – the Future of Education
Education has always been crucial for growth, evolution, and prosperity. Hybrid learning, as an integration of informational technologies and proven traditional schooling practices, will mark the future of successful teaching approaches.
Undeniably, classroom teaching will remain an important part of education for the foreseeable future. Nevertheless, more and more new, contemporary schooling practices will emerge, evolve, and adapt to this highly dynamic environment. Hybrid learning makes education more accessible to the differently-abled, as well as to those who live in remote areas or experience extreme weather conditions. Launched as an emergency response to the restrictions imposed due to the pandemic, it is likely to become a best practice in teaching and learning in the years to come.