Explore the possibilities of modern online tutoring software to build a career as a teacher while traveling. More and more digital nomads are embracing this career opportunity that enables them to work while traveling and to immerse themselves in different cultures and environments.
We all have heard the sayings "Anything is possible" and "Dream big!". They inspire us to chase our wildest dreams. Today's digital nomads are a real example of how one can live the life they want by doing what they love.
This modern way of exploring the world is possible thanks to the broad availability of the internet even in the most remote locations. Today, more and more people in different industries have the option to work remotely. When you combine your passion for traveling with an online career your possibilities to explore the world are limitless. Some of the jobs for digital nomads include: tutoring through the use of online tutoring software, virtual assistants, web designers, and many more.
What is a digital nomad?
Digital nomads are adventurers who follow their dreams to explore different destinations and immerse themselves in new cultures and environments. What is it that differentiates them from normal travelers and tourists? Digital nomads work and earn sufficient income while traveling abroad. They use the opportunities that many industries provide to develop a career by working remotely.
The possibility to earn money while traveling and living in a new destination gives peace of mind to the digital nomad who can enjoy their time to the fullest and plan their next journey to a new marvelous place.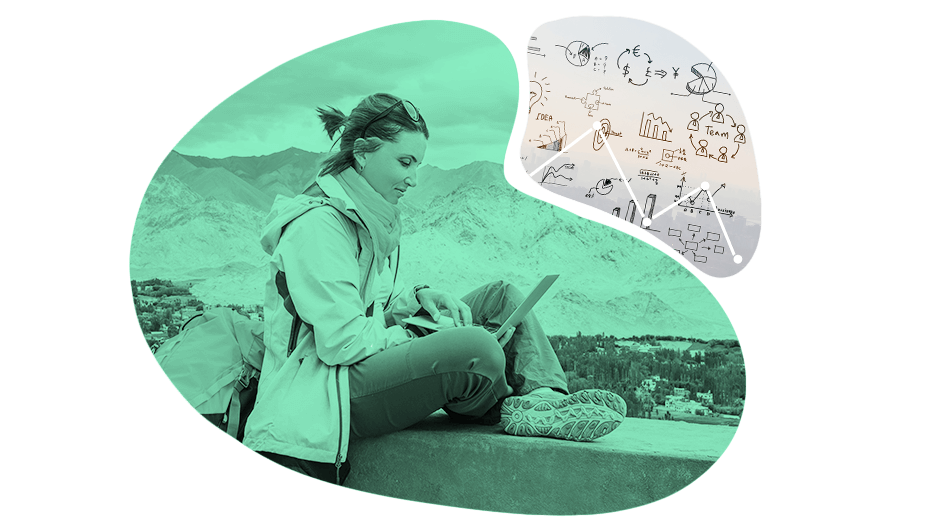 Why do so many digital nomads choose to work as online teachers?
The large amount of interest that living like a digital nomad has received has allowed more and more companies to offer opportunities for remote work in many different industries. Nowadays, digital nomads can choose from a rich variety of jobs, including teaching, writing e-books, being a virtual assistant, etc.
The accessibility of modern user-friendly online tutoring software is one of the main reasons why so many people choose to start a career in teaching. In addition, digital nomads have the perfect combination of skills and personal characteristics to develop a successful career in online tutoring.
Many of the travelers are fluent in several languages, which makes it easier to choose language tutoring.
Digital nomads in general are self-organized and have a flexible schedule. They are open-minded and curious to explore different cultures, ways of life, and environments

Why do so many digital nomads choose to work as online teachers?

With online tutoring it is possible to teach and interact with students from different backgrounds
Online teaching doesn't always require tutors to have certain degrees and qualifications, which makes it easier to start a career. You can begin your teaching experience with language lessons or tutoring the subjects you know the best. The user-friendly platforms offered by online tutoring software are suitable for complete beginners to teaching even if they are not tech savvy.
Another reason why online tutoring is a great idea for digital nomads is that it doesn't require heavy equipment. All you need is a stable internet connection, a laptop, a webcam, and a microphone to start teaching.
Along with the abundance of features in the virtual classrooms and the online tutoring software, digital nomads can easily find a lot of resources for teachers on how to improve their lessons.
You can start your teaching career as soon as you find students who are interested in the subjects you are teaching.
When you are traveling and changing time zones, you can expand the regions where you can teach students. For example, you want to tutor students living in Asia, but from your current location the most convenient hours are during the night. Just follow the heart of a digital nomad and travel to countries with similar time zones. In this way you can schedule classes at a more convenient time for you while enjoying the new locations.
Teaching in virtual classrooms gives you lots of flexibility. Digital nomads who work as tutors can use the online tutoring software to create lessons and teach them at the most convenient time for them. There are possibilities for live online tutoring sessions as well as for creating courses.
Jumpstart your tutoring career with modern online tutoring software
When you have the motivation and the skills to teach online, the only things you need are the proper online tutoring software and the minimum required equipment.
Choose to teach a subject you are familiar with – If you don't have previous teaching experience, it is recommended to choose a subject that you know best. Lots of digital nomads begin their careers with teaching languages online, like English.

Jumpstart your tutoring career with modern online tutoring software

Watch online teaching sessions in virtual classrooms – Explore the features in the virtual classrooms and the online tutoring software you can use to get a sense of how to organize your lessons to be more effective and interesting.
Create online lessons and rehearse your first classes in front of a camera – Practicing with the online tutoring software in front of the camera will build your confidence and enrich your ideas for techniques and methods that you can implement in the lessons.
Build your brand and find students – Online teachers have two possibilities, either to join an agency that will help them in connecting with students or to work for themselves. The second option involves creating a website and self-promotion. Lots of digital nomads choose to work as freelancers in order to have more flexibility and freedom.
How to create a passive income with online tutoring software?
Online tutoring software offers the possibility to earn a passive income by creating self-paced courses, lessons, or a curriculum. The main advantage of this teaching opportunity includes the income that you can earn even if you are not online 24/7. You can create the lessons at a time and place that are convenient for you.
Online tutoring software makes it easy to enrich the lessons with materials, multimedia, etc. You can easily save and edit your lessons. Even if the online courses don't require as much interaction with students as live online tutoring, the teachers will still have to spend some time providing consultations, interacting with students, sending out reminders, etc.
How to teach live online lessons in virtual classrooms with online tutoring software?
Explore in detail the tips for live online tutoring. In addition, digital nomads who want to teach should:
Plan ahead when traveling to find a place with a stable internet connection – You can work in your accommodation or teach from the office spaces (co-working spaces) that provide an internet connection at your new location.

How to teach live online lessons in virtual classrooms with online tutoring software?

Quiet environment- Make sure that you can work in a quiet place without distractions.
Available at certain hours – Schedule your travels to be sure you are available to teach the classes at pre-arranged times.