Affiliate marketing has seen a significant rise in investments in the last few years. A recent study conducted by Forrester Consulting stated that in 2016 U.S. retailers spent $4.7 billion on affiliate marketing. However, by 2020 U.S. affiliate marketing spend is expected to rise to $6.8 billion.
As you can imagine, this is quite an increase in the numbers. But what does it mean? Naturally, it means that more and more people are seizing this financial opportunity. In this article we are going to take a closer look at why this is happening and we are going to share some tips that are going to help you hit the ground running in this niche.
One of the main points to take into consideration when taking up a new business venture is, of course, the initial investment. In this regard, affiliate marketing can be quite a cost-efficient option as there are very few expenses when it comes to joining an affiliate program and setting up your passive income source. Most affiliate programs are free to join, which means that you will not be constrained by any membership fees.
Another big plus is that it will not be necessary for you to create and then develop an entirely new service or product. Most of what you do as an affiliate comes down to sharing your affiliate code online, either on social media or your own website. This, in turn, means that you have the option of both keeping track of your passive income and distributing your code from anywhere that has internet access.
Keeping all of this in mind, it is hardly surprising that affiliate marketing is on the rise and is continuously being validated as a stable source of additional income for many people.
Combined with the relatively new e-learning market, which is fast-paced and steadily developing, income opportunities abound. The e-learning market is also on an upward trend. According to Global E-Learning Market Analysis & Trends – Industry Forecast to 2025, the market is set to reach a value of $331 billion by 2025.
As you can imagine, this provides you, as a potential affiliate, with many options and a wide target audience with whom to share your affiliate information. E-learning platforms are naturally sought by universities, private schools, summer schools, and other educational institutions. This already provides you with a huge potential customer base. However, there are other options as well. For example, many corporations seek out e-learning platforms for internal corporate training purposes. The pharmaceutical, cosmetic, fitness, IT, and other industries often go for e-learning options when it comes to basic or additional certification training courses, as well.
In the following paragraphs we are going to talk about how you can go about becoming a VEDAMO Affiliate, as well as share some helpful tips on how you can maximize and keep track of your income from the program.
How Do I Join?
In order to become an affiliate, you first need to go to our home page.
Once you've reached the main page, you will need to scroll down and choose the "Partnership programme."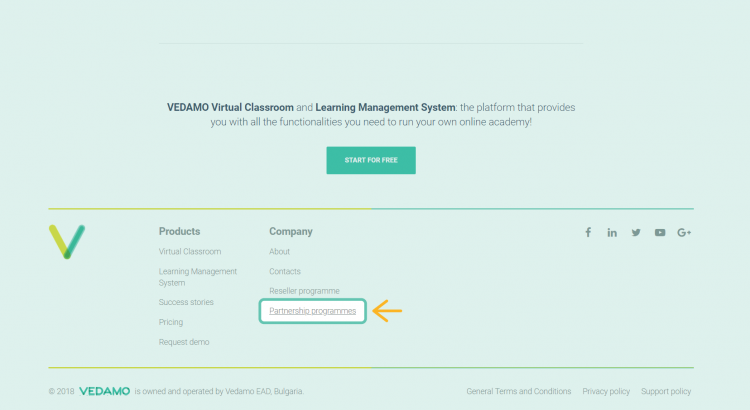 Clicking the "Partnership programme" link will redirect you to a new page: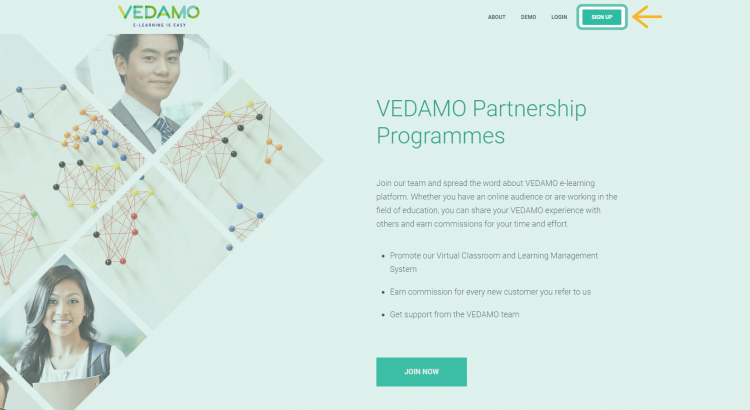 Click on "Sign Up," fill in the necessary information, and check the box next to "I agree to the terms & conditions."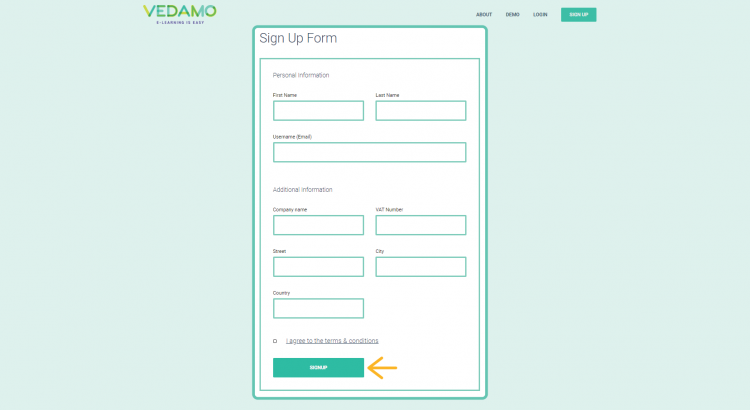 Once you've completed the registration process, click on "Sign Up." You will then receive a confirmation email in your inbox. Make sure to check your Spam folder, as there is a chance the email was sent there.
You will be approved within 24 hours of registration and you will receive a second email. It will include a link. Follow this link to the page below: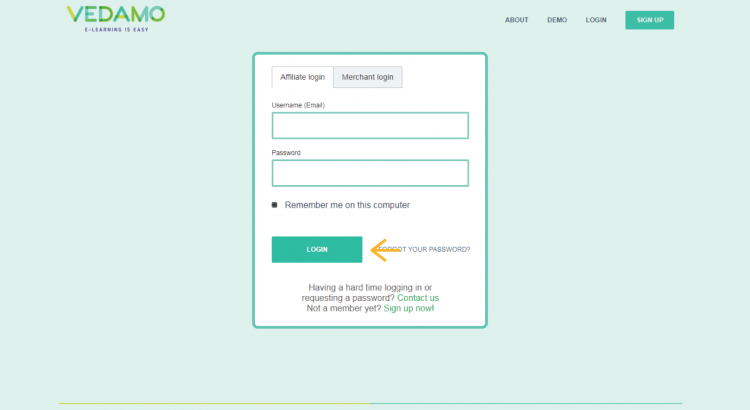 Enter your credentials and click on "Log In." Once you've logged in, you will see your VEDAMO Partnership Dashboard.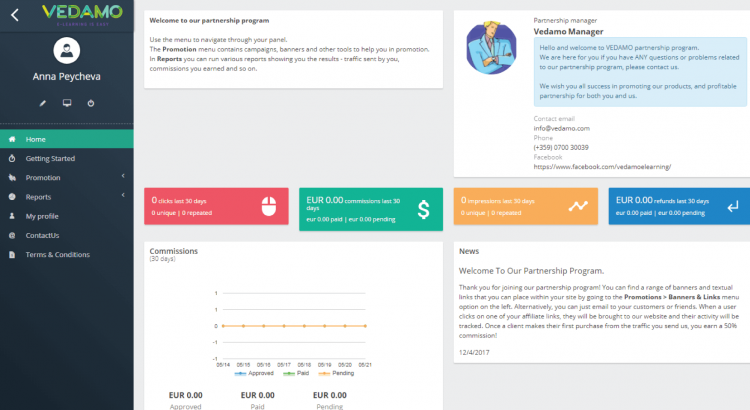 You can find all current active campaigns under the "Promotion" tab in the "Campaigns" option: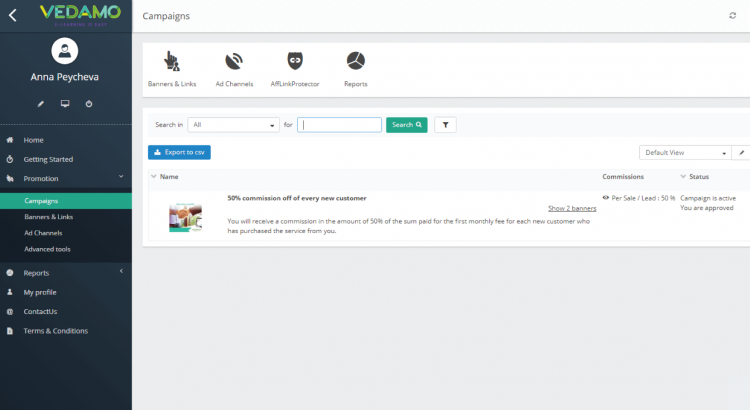 Which Code Do I Use and How Do I Use It?
You can find your unique VEDAMO Partner code in the "Banners & Links" subsection of the "Promotion" tab in your VEDAMO Partner Dashboard.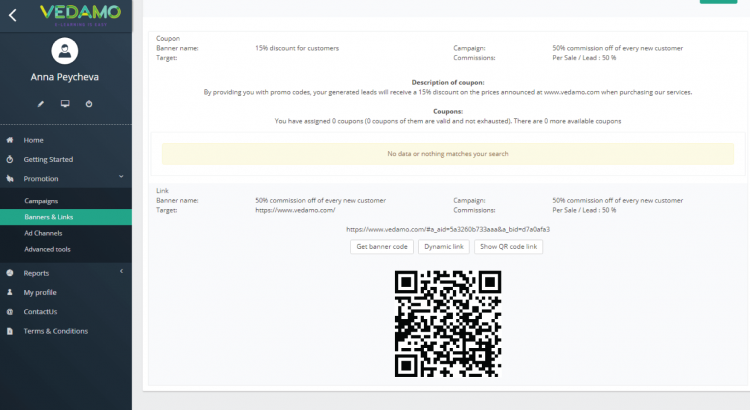 You may share this code on any website of your choice, or, if you prefer, on social media such as, but not limited to, Facebook, Twitter, and Instagram. You may also share it on your own website, on topical forums or, create a Facebook Ad Campaign.
Tracking your sales and earned commissions via the "Reports" section of your Dashboard, which is located under the "Commissions" sub-tab: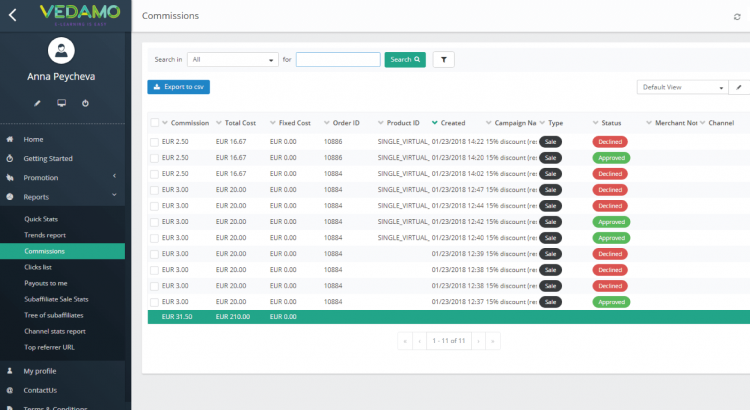 Keep in mind that a commission will be paid to a Partner for only the first monthly payment made by the client.
Example: If a client makes a purchase for 12 months (20 EUR per month), the Partner would receive 50% of the initial 20 EUR (VAT not included).
How Do I Claim My Commission?
The Partner may only receive their commission if the amount is greater than 50 EUR, as per our Partnership Programme Terms & Conditions.
Note: We recommend that all Partners use PayPal in order to claim their commissions so as to avoid bank processing fees.
You may set up your payout method via the "My profile" section of your menu. Once you've opened it, you will need to click on "Payment Details".
In the "Payout Method" dropdown menu, you will be able to select a payment processor of your choice.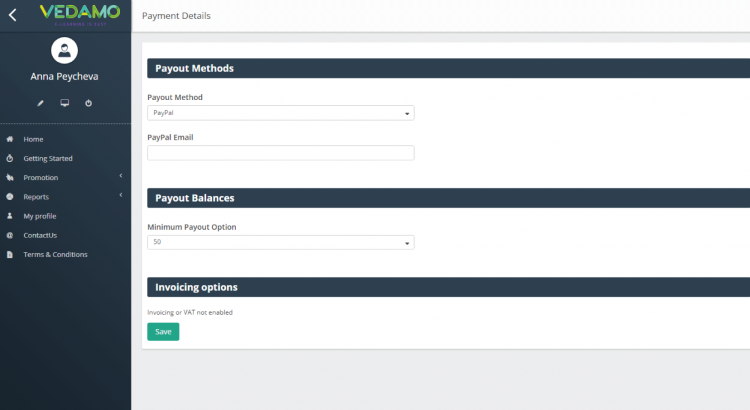 In order to claim your commission, you will need to contact VEDAMO via one of the following email addresses:
support@vedamo.com
info@vedamo.com
Alternatively, you can also reach us at the following phone number:
+0700 300 39
It looks like you're all set to begin your Partnership career. Good luck!