While Facebook is not the only tool available to market your online courses, it is definitely one of the most effective ones. As we mentioned in the previous blog article, Facebook is the most widely used social platform and you can use it to promote your online courses in many different ways.
In this article we are going to give you an overview of the main forms of advertising that is used on Facebook, as well as discuss which ones are the most suitable for you as an online teacher.
Free vs. Paid Advertising on Facebook
When we talk about advertising, most of the time we think of the paid version. However, there are ways to promote your online course without paying a penny for it. Nowadays, the most effective way to reach your potential customers for free is through creating and sharing valuable content for your users.
If you manage to create organic content, you will be able to drive free traffic to your blog and convert the users into your customers after that. Some forms of good content to share with your users are:
Free introductory courses
Free additional materials connected to your courses like case studies and articles
Blog posts connected to the topics in your courses
Webinars – they are great ways to interact with your followers and discuss interesting topics with them
So, before you go ahead and calculate your budget for paid advertising, we advise you to sit down and make a strategic plan about content creation. If you manage to develop and implement your content plan, you will be able to drive organic traffic to your site and create loyal customers. Here is a great article from HubSpot in which you can find out more about this topic.
Types of Facebook Ads
If you want to combine paid and free advertising, you can run ads from your Facebook Business Page. But before you do this, we advise you to define your buyer persona – the demographics, interests, and habits of your potential customer. Why is it good to have this information in a written and more detailed form? Well, when you advertise on Facebook, as well as on any other media or software platform, you want to target your ad to a specific audience. For example, if you want to teach Business Ethics, you would want to target people who have an interest in business, who are between 20 to 45 years old, who are keen on learning online, etc. On the other hand, if you are going to teach English as a Foreign Language in your online course, you might want to target people in Japan who are between the ages of 18 to 35 and who have an interest in foreign languages.
Buffer's blog article provides detailed information on how to define your buyer persona before you prepare the creatives for your ads.
There are two main ways to promote your online course in Facebook:
you can either boost your post directly from your page once it is shared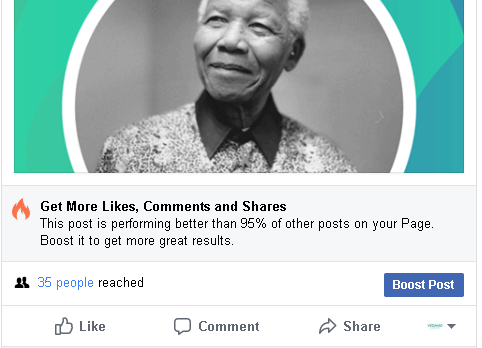 you can go to your Ads Manager tab and create a separate campaign for a specific course.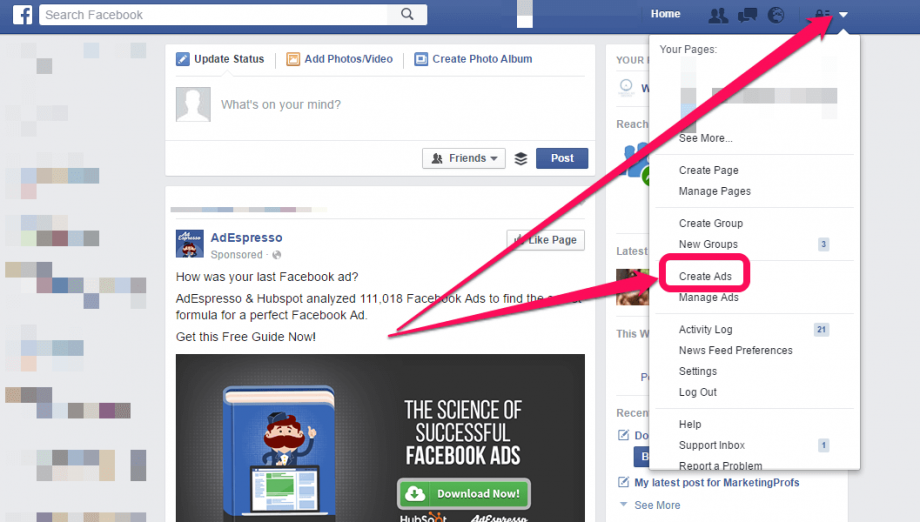 In this article we are going to discuss the options available to you when using the second method – promoting your course with a campaign.
Once you are logged in to your profile to create a campaign, you need to go to the Create Ads tab, which can be reached from the small triangle situated at the top right of your profile. When you select Create Ads you will be guided to your Ads Manager and your ads creation screen. The first thing you need to select when setting up your ad is your marketing objective.
Facebook Marketing Objectives
There are 10 marketing objectives from which you can choose, depending on the goal you want to achieve and the target audience you want to reach.
Brand awareness – introduce your brand to a new audience. This is a good option if you rely on a long-term advertising strategy for your online courses. Brand awareness does not directly give you a return on investment though, and if you want to get students to sign up for a course right away, we suggest that you use one of the other options.
Reach – expose your ad to as many people in your audience as possible. This is one of the best objectives you can use to promote a course that is starting soon and to inform people about it. Once you have gathered an audience that has interacted with your ad, you can then target them with a special discount offer and get them to sign up.
Traffic – drive traffic to your blog or a specific webpage. Traffic is one of the most effective objectives you can use to promote your online course – you show your ad to your customers and at the same time lead them to visit your blog.
Engagement – show your ad to a wide audience in order to increase the number of likes, comments, shares, or photo views. You can also increase your number of page likes or promote a webinar, for example. Engagement is a useful objective if you want to make your brand more well known or get people to register or sign up for a course.
App installs – this option is used mainly by people who have developed a mobile app and want to drive more app installations through Facebook.
Video views – encourage people to watch a video that you have shared. In the future, once you have short promotional videos for your courses, you can use them as advertising as well.
Lead generation – in marketing terms, a "lead" refers to contact with a potential customer. For example, if you require the people who viewed your ad to enter their names and emails, this is viewed as "leads," which you can then contact in the future in order to promote your courses. Lead generation campaigns are mainly used to gather the contact information of your potential customers.
Messages – get more people to connect with you in FB Messenger. This kind of ad encourages people to ask you questions directly in your FB messenger.
Conversions – get people to take specific action on your blog: read an article, register for a webinar; register for a course, etc.
Catalog sales – this option is mainly used to link your online store with your Facebook account and promote the products from the store through Facebook. Catalog sales are mainly used by online stores who sell products like toys, bags, shoes, jewelry, etc. This is not the best option through which you can sell an online course, unless you have created an online store and listed all of the courses on it.
Store visits – drive nearby customers to more offline store visits.
We briefly outlined the above-mentioned objectives so that you would have a better understanding of the options that are available to you and to help you select the best one for your current marketing needs. However, now let's focus on the four most useful objectives for online teachers and the purposes you can use them for – Reach, Traffic, Lead Generation, and Conversions.
Reach objective
You will want to use the Reach objective in order to show your ad to a larger portion of your target audience. If your audience is narrow – let's say you are targeting a niche with a very specific course topic – you can also use this objective to show your ad with a higher rate of frequency. This objective can be used when you launch a new online course and you want to inform more people about it. Once you start creating your ad, you will have to name your campaign and your ad set. The next step is to define your target audience, and set your budget, timeline, and placements. We will discuss these steps in more detail in future articles.
Traffic objective
The Traffic objective is one of the most used objectives when you want to promote a blog post. You can use it to drive traffic to your blog or website. On your blog you can allow your customers to register for a course, download a guide, or get a discount coupon for your course. The best thing about this objective is that you can track the people who visited your blog and remarket them with another ad after that. Overall, the traffic objective is the most cost effective one as well.
Traffic and Conversion objectives
Here is a tip on how to combine both the Traffic and Conversion objectives. You can drive people to your website and create a custom audience with a traffic ad, and then you can gather information about this audience and pitch your course to them. In this first step, you encourage people to read a blog post about, for example, writing great content for social media. In the second step, you can remarket your audience with a specific offer for your online course, "Writing Content for Social Media." In this way, you first share free valuable content with your potential students and then, once you know that they are interested, you offer them a special price for your course.
Lead Generation objective
You can let people register for a course or a webinar directly on Facebook without making them leave the platform. This can be done through the Lead Generation objective. When someone clicks on your lead ad, a form opens up with the person's contact information automatically populated based on the data they share with Facebook, like their name and email address. This makes filling out the form as fast as two clicks: one click on the ad to open the form and another to submit the auto-filled form. This is a good tool to quickly gather contacts and emails, however the lead form gives you limited space to describe your offer – in this case, your course. So you might consider using this objective in remarketing campaigns where you are targeting users who are already familiar with your courses and with e-learning.
---
It is impossible to cover all of the advertising options that are available on Facebook in just one article, so that is why we will leave the topic for now and continue with it in the second part of our article.