By demonstration students get acquainted with the objects and phenomena studied. The combination of description and image basis in the virtual classroom fosters deeper understanding of the study content.
In practice demonstration is applicable to all school subjects: about phenomena and objects in natural sciences, laboratory experiments, historical films, drawings and mind maps of events, recitals and drama performances based on literary works, etc. The demonstration can be especially useful with children in elementary education as well as with students of visual, audio and kinaesthetic learning styles.
Strategies for implementation in an online environment
VEDAMO Virtual Classroom offers a lot of possibilities for study content demonstration and illustration in an easy and convenient way. In a traditional learning environment in order to realise a demonstration it is very often the case that the teacher has to prepare in advance a number of illustrative materials or additional technical devices, activities which in VEDAMO are performed just by pressing a few buttons.
For this purpose you can use the Media Player function in VEDAMO Virtual Classroom where you share a video material with the participants demonstrating certain processes and phenomena. This will help understanding, reflection and acquisition of new knowledge and thus demonstration becomes a suitable method for the main part of the virtual lesson. Demonstration can be done by:
Online Whiteboard – by means of images, drawings, diagrams, tables, etc..;
The Media Player – by means of audio and video files;
An additionally attached document camera – for actions which you should perform manually such as handwriting, drawing, modelling, designing, etc.
Application of the method in the three forms of implementation (interactivity, discourse and teamwork)
The method is applicable in all form of activities in the virtual learning environment but is especially effective in the discourse. The demonstration is suitable for the main body of the virtual lesson – meaning comprehension.
Examples of educational activities in VEDAMO Virtual Classroom:
Demonstration in a lesson with 10-year-old children 
In the example below via the Media Player the tutor is playing a video which shows a dynamic view of the planet Earth from space.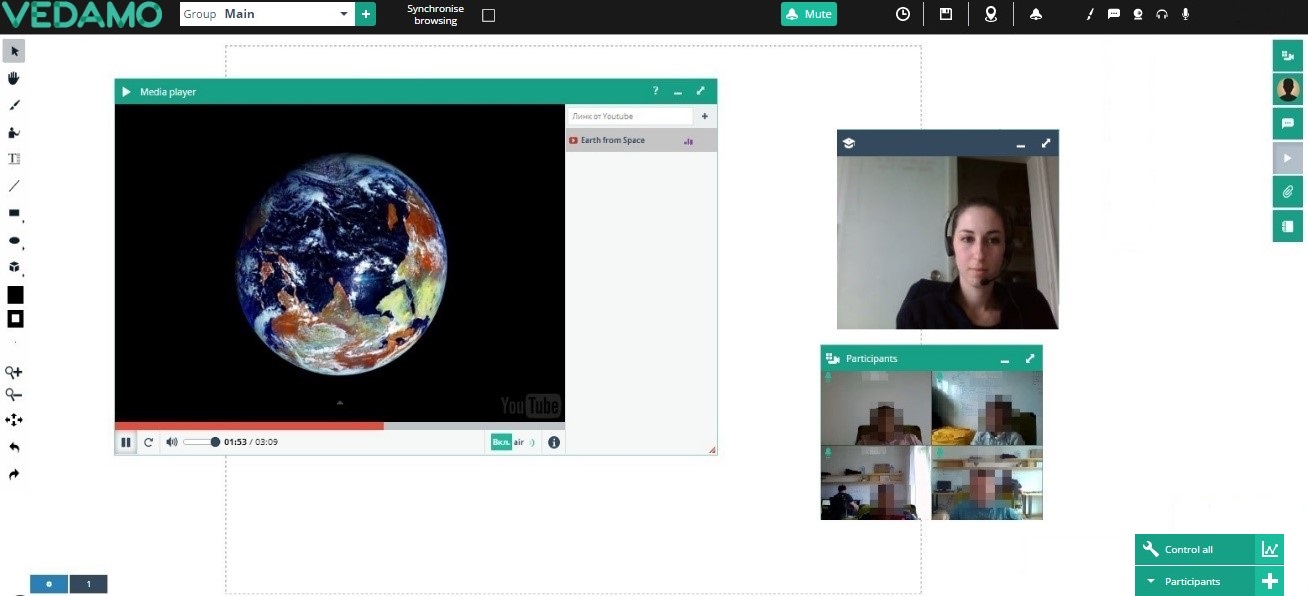 Demonstration in an Adult Learners' Lecture
This is a demonstration of the first films in cinematographic history in a lecture with adult learners.