We often assume that adults are mature, self-confident, and highly experienced. However, when it comes to the virtual classroom, this group of online students is also considered less open-minded and receptive to change than younger students. Online tutors need to address this fact by paying special attention to course structure and content, as well as by focusing on the motivation levels and attitudes of the students.
Today's online students
The stats
According to a recent study from Education Today the characteristics of today's online students can be summarized as follows:
There are about 56 million online students worldwide.
Their average age is 34.
They are 53% female and 47% male.
81% are already employed.
82% are undergraduate students.
The growth rate for online learning is 21% compared to just 1.8% in traditional education.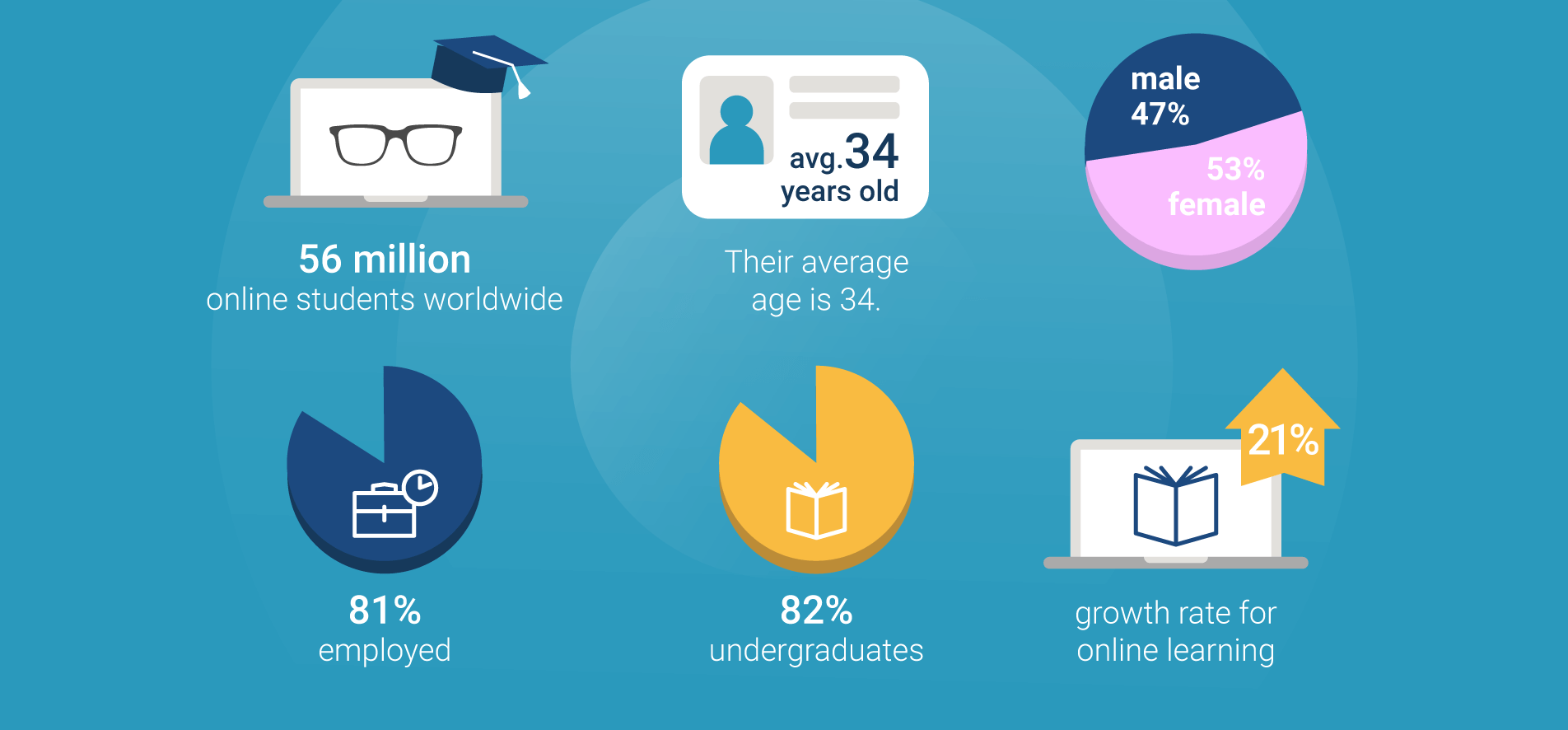 Types of postgraduate students
Postgraduate refers to any student who is taking a course that requires an undergraduate degree as part of the entry requirements. Additionally, there is no difference between the working or nonworking students. If they take any course after their graduation, they are called postgraduate students. However, if we go beyond the strict definition, there are differences between them:
The full-time postgraduate student knows that the course qualification is their ticket to a desired career path. Usually, these kinds of students aim to get a master's degree and many of them are already working. Therefore, they prefer online learning opportunities.
The part-time postgraduate student usually takes a course that specializes in or is strictly connected to their hobbies. The key factor is the lack of time that these students have. There are certain cases in which a postgraduate student may try to finish a postponed degree.
To sum it up, whatever the case, postgraduate students are experienced in academic work and can easily focus on their independent work. They spend less time socializing and are usually focused on the specific results that they want to achieve. However, if there are older learners among the postgraduate students, things can get a bit different.
Who are adult learners?
Maturity brings unique characteristics into the virtual classroom. To best suit their special needs, online tutors should keep in mind several facts:
Adult learners are independent – an elderly group of online students is experienced in decision making and self-control. They know what they need and like to have options to make the best choice.
Adult learners set clear goals – many adults have specific goals they are trying to achieve. Moreover, they participate in learning activities that will help them reach their goals.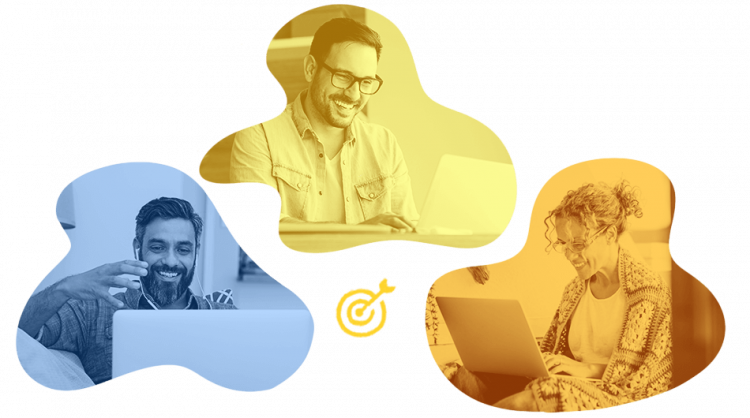 Adult learners are practical – adults prefer practical knowledge and experiences. Therefore, they invest time in developing skills that will make their work easier. In other words, older students need personal relevance in different learning activities.
Adult learners are responsible – the majority of older students have families, jobs, and other dynamic responsibilities. Therefore, to find time for learning means adhering to a strict schedule and clear priorities.
Adult learners need a community – to overcome fears and doubts, older online students prefer to have a group to interact with and discuss issues.
How to schedule your online course to suit older learners
Having different age groups in the virtual classroom means that you have to tailor your online tutoring approach. So pay attention to the characteristics of the older group to make the most of your efforts.
Adults are used to taking responsibility. Therefore, let them take control of their learning process. Use self-assessment and build a peer relationship with the online student. Additionally, include activities with subtle support.
Adult learners are generally practical. Moreover, they need information that can be used right away. Therefore, provide them with practical knowledge and create a course that will cover their individual needs.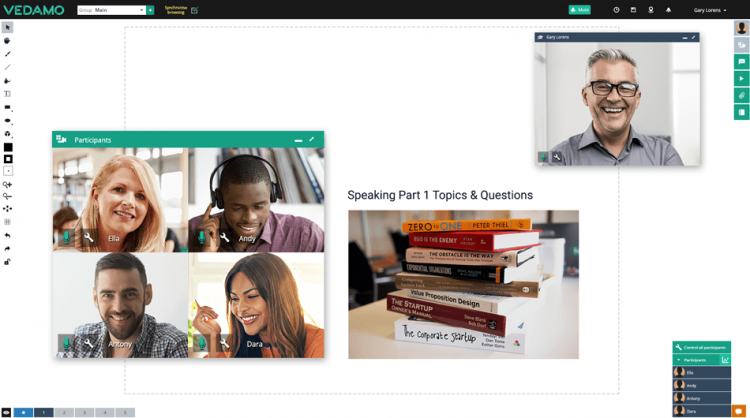 Having a rich life experience sometimes means that adult learners are not keen on change and may learn a bit slower. Therefore, to motivate them the online tutor has to focus on why the students are taking the course in the first place. It is important to stimulate their minds and to diversify the material. Moreover, link new concepts to previously established ones. Also, give them enough time to complete each task.
Adults tend to link their past experiences to new ones. They have seen a lot and have a strong explanation about how things are based on their prior experiences. It's crucial to have an online course with older learners who have similar experience levels. Therefore, encourage discussion and sharing and make sure your adult online students can freely interact with each other.
Adult learners expect more. They need useful knowledge and expect immediate results. Therefore, create a course that will be practical. Additionally, make clear statements about what they will gain from it. Also, create content that is close to their life experiences and that will meet their personal needs for improvement.
Online tutoring techniques for an older group of learners
The motivation to learn is quite different when you are an adult. Therefore, online tutoring is a real challenge if you don't understand why this group of online students is taking your class and what their needs may be.
Older learners are in your course because they have a particular desire to learn something. What you can do is explore what motivates them and adapt the content to their expectations.
Being the online tutor of an older group means that you have to listen more. Every learner has their own pace and learning method, which is especially true for adult learners. What works for one may not work for another. First, find out what type of learners your online students are. Then encourage them to discover their own way of learning according to their style.
Visual learners prefer to learn through graphs, diagrams, and illustrations. They rely on what the online tutor is doing. Therefore, provide relevant worksheets and examples and show them how things work.
Auditory learners carefully listen to everything associated with the lesson. To make sure that they remember something important, you just need to tell them. They pay attention to the sound of your voice and all of its subtle messages, and they actively participate in discussions. You can best communicate with them by speaking clearly and asking questions.
Tactile learners need to physically do something to understand it. You can best communicate with tactile learners by involving them in the learning process. Let them understand what you mean by making them do it themselves.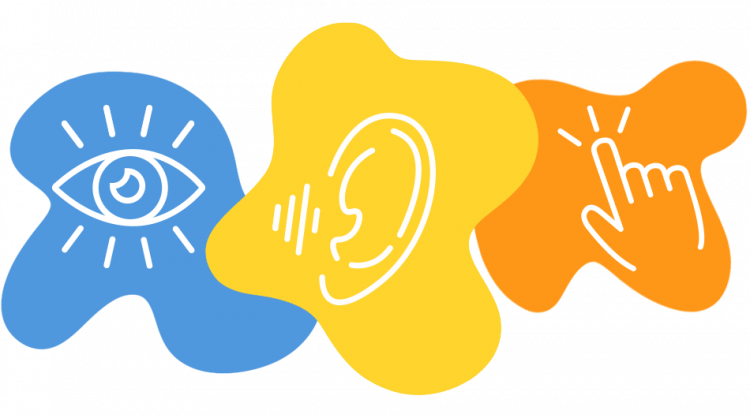 Tips to motivate adult learners
Imagine an adult with hundreds of responsibilities and a project in their mind and you'll be right. Hundreds but one – online learning. Being an adult online student is a challenge both for the adults and the online tutors. Older students expect practical knowledge, immediate results, and, on top of that, they are rarely open to change. They remember more slowly and need extra motivation to finish what they started. Therefore, consider the following examples when creating a proper study environment for your older group of online students:
Create useful and relevant learning experiences based on the age group and interests of your learners.
Provide practical knowledge.
Facilitate learning via different materials – references, infographics, and short videos.
Use humor to make your students listen to your material.
Offer knowledge bite by bite to ease the learning process.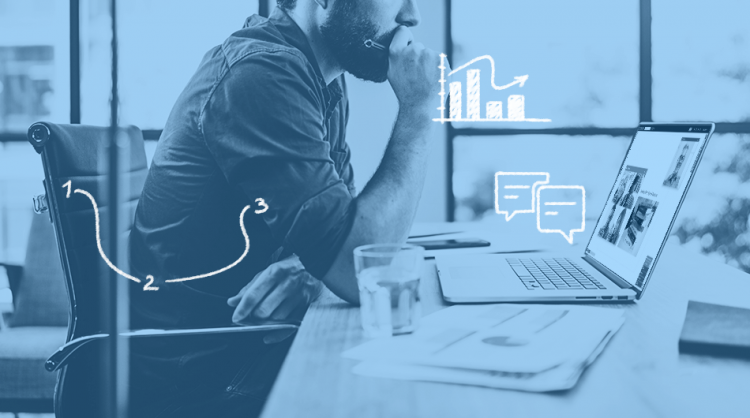 Add suspense in your structure to keep your learners interested and surprised.
Encourage them to think with brain teasers or unusual questions.
Involve emotions to connect with the group on a deeper level. Include memories and personal stories to support your lessons.
Provide real work and life examples to help learners better associate the knowledge. You may also try to create mind maps to connect new and old knowledge.
Be respectful and ask for feedback.