How can I delete an account in the Learning Management System?
Log in with your Organizational or Admin account and go to your Dashboard. Click on "Users" from the left side menu and find the account you want to delete.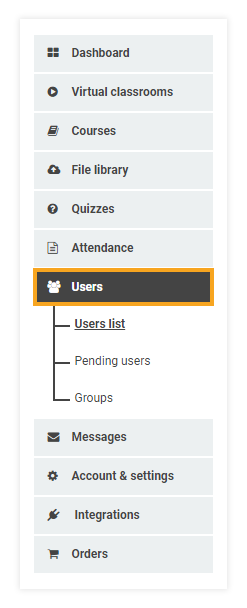 You can use the search option or filter the users by name or time of registration. Select the desired user and change the Account status from the drop-down menu to "Deleted" and then save the changes.
Please, be aware that by deleting the profile, you will prevent the user from entering your LMS. You will no longer be able to recover the deleted account.
The user whose account you have deleted will receive an email notifying him/her that their account is no longer active. 
Alternatively, if you want to keep the customer's information on the website, you can choose the "suspend" option instead. This will suspend their account, making them unable to access your academy. However, their records will still be present in your system and you can reinstate their account by setting it to "active" at any time.
Note: By selecting the suspend or delete status option you will free additional users quota. For example:  if you have reached the maximum available users for your LMS, by selecting the delete/suspend option for 5 old users you free 5 new registrations slots in your academy.