The Premium version of the Virtual Classroom gives you access to additional setup options for your academy, including adding your brand logo to the Virtual Classroom and deciding whether or not to turn the virtual classroom recordings on or off. These features can be accessed through the Virtual Classroom General Information menu.
Location
The General Information menu is accessible from the Account and Settings tab.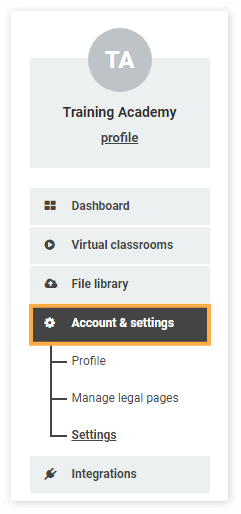 Interactive Archives
Interactive recordings are switched on by default.  Choosing not to have interactive archives of the sessions means that there will be no way for you to review your sessions afterward.

Settings Menu: Custom Branding
In order to change the logo your students to see inside the virtual classroom, you can upload your desired logo by clicking the "Upload Logo" button.
Note: Keep in mind that the image you upload must not be larger than 200×50 pixels in size.
On the right, you can see a preview of how the new logo looks in our Virtual Classroom.
The Delete button allows you to remove any logo you upload and revert back to the original Vedamo logo for the classroom. Once you have finished editing your desired settings, click on the Save button to confirm the changes you have made.