Students' motivation is crucial for the successful learning process both in traditional and online teaching platform. In this article you will find three key models to improve your learners' motivation.
Success in virtual learning depends on active learner participation
They would not be able to take part unless they know how and when to use a particular tool or communication regime with an optimal effect. Therefore, prompt the students to use the respective tools and make sure they understand how to use them. This is all related with habit formation for technological learning procedures as well as with the constant acquisition of new working models and professional teacher development.
Building participant interaction plays a key role in virtual learning. A rule of thumb when accomplishing interactivity is to provide interaction with participants every 3-5 minutes or at every 3-4 slides. Make use of real-life examples relevant for the group age and level. Thus, you will be able to attract participants' attention. Such an approach 'instills' life into the dry topics and concepts. In order to sustain interactivity, ask as many questions as possible. Be sure to share your own opinion on the topics under discussion.
Here is some brief information about several motivational models for learners in an online environment:
I. Nine stages by Gagné for a motivational learning organisation
Attract attention (by means of a short story, demo, a problem situation)
Make sure the goals and expectations are clear (explain in plain language what is going to happen, do not use scientific terminology)
Update previous knowledge (base new knowledge on something they already know)
Present the study content (teach new knowledge consistently and in small bits to avoid learner overload)
Provide "learning guidance" (provide them with ideas as to how to learn the new information and try to teach them how to learn)
Cause them to perform (think of an activity in which students are able to approbate new knowledge independently)
Provide feedback (Let it be specific and to the point, and not just "Good job!")
Assess performance (ask for feedback by questions so that you can check their understanding of the learning material)
Encourage knowledge endurance and transformation (implement activities related with new-knowledge transfer in different conditions)
More information about the nine stages by Robert Gagné [1]
II. Keller's Motivational Model

More information about Keller's motivational model [2]
III. Bloom's Taxonomy for mental skills development
Activities need to involve the different levels of the cognitive area.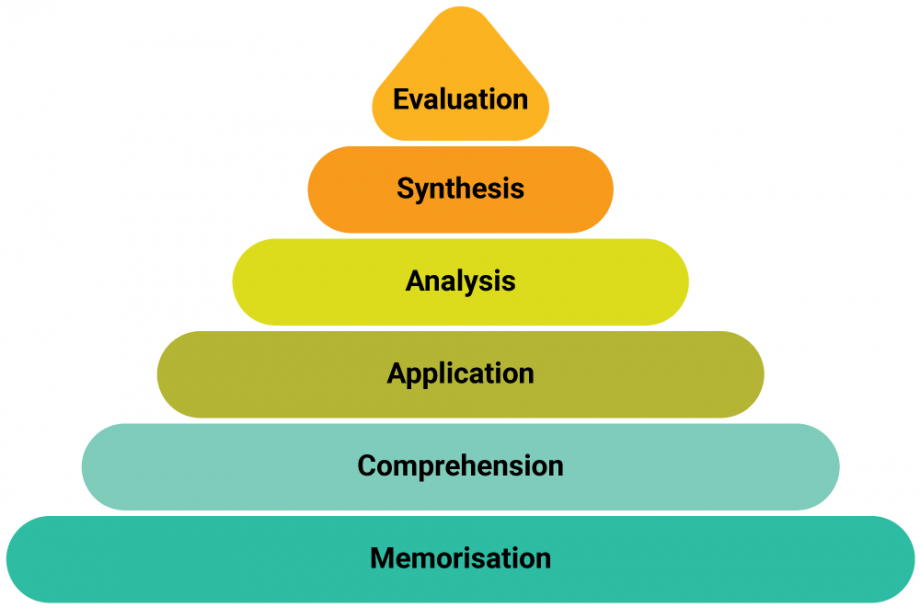 More information about Bloom's Taxonomy [3]
You can also try these techniques in the virtual classroom for improving your students motivation and attention
Keep in mind that your teaching style in the virtual classroom may be different from that in the real one. Think of the things you find amusing and keep you interested and try to implement elements of them into your online teaching whereas you retain your own style.
It is key to give clear rules for the virtual learning environment interaction (e.g. learners should show respect, should not interrupt each other, follow the tutor's instructions, ask to speak by raising a hand/ using the chat, etc.), as well as to inform them of the consequences if they break the rules.
Tell short stories and demonstrate key points. The stories need to be adequate and clear for the group.
There is a difference between being clear and organised and being monotonous and boring. You can add an element of excitement into dull topics by using appropriate examples, short anecdotes or visual materials while adhering to being clear and concise.
Do not let long pauses of silence or disconnected speech while you are doing something else. This will confuse the students and take away from their trust in you as well as lessen the comfort of learning in the virtual environment.  If you need to find a certain material you want to use, ask them for not more than a minute of patience. Even better, at your discretion you can involve them in the search for the material as well (if you think it is suitable). This is how habits for independent search are formed which is an essential part of learning as a process and an indispensable characteristic of informational literacy.
Do not exceed the pre-determined session time. The optimal session duration is about 40-60 minutes depending on students' age. If you are planning a longer study time, make sure you pause for breaks in-between sessions.
Provide learners the opportunity to work with the different system tools. (text editor, drawing tools, file editor, breakout rooms, screen-sharing tool, etc.)
Make use of different communication channels in learning (audio, video, text, images, etc.) In this way almost all senses are involved and this enables the full engagement of learner attention as well as a wholesome interaction and acquisition. Moreover, the variety of activities preconditions the more effective and extended learner attention focus. Yet, do not overuse the channels by involving too many of them simultaneously, because you risk overburdening learner attention especially when you are working with younger students. The combination of one visual (displaying an image) and one verbal (a teacher's story) channel is usually enough.
Combine a group and individual working modes by dividing participants into breakout rooms.
Address participants by their name.
Use the pointer in order to focus learner attention to the respective element from the study content on the online whiteboard.
Provide participant-assessment exercises and quizzes to make sure they have acquired the new knowledge.
Use the whiteboard for collaborative learning implementing behavioural strategies such as brainstorming, casework, problem solving, etc.
For more specific topics you can invite a guest lecturer who will share their experience on the topic as a second teacher.
Use illustrative video materials in the media player to clarify complex concepts and phenomena.
Remember to help students get used to working with the system tools and provide technical support in case it is necessary.
Make use of the individual video when a participant is in the role of a presenter while you move to the participants' mosaic.
Build rapport among group participants by asking individual questions, and using ice-breakers and personal chat.
Do not miss an opportunity to praise the participants when they accomplish a result. For younger children you can apply "individual rewarding", e.g. by using the libraries with predefined shapes to award virtual stickers.