The VEDAMO LMS platform offers a 30-day free trial plan, which serves to show the functionalities of the system. The free version is limited to 30 days of usage and includes one virtual classroom available for 1 on 1 sessions. You can read more on how to set up your free LMS plan and get further information on what this plan offers below.
Free LMS Registration – Start for free
In order to register your Free LMS on Vedamo, click on the LEARNING MANAGEMENT SYSTEM button on our home page. This will take you to the Learning Management System plan page. Click on Get 30-days free trial in order to advance.

Alternatively, you can go to our Pricing via the button, located on the upper-right side of the VEDAMO homepage. This will redirect you to the pricing page where you can choose the plan that best suits your needs.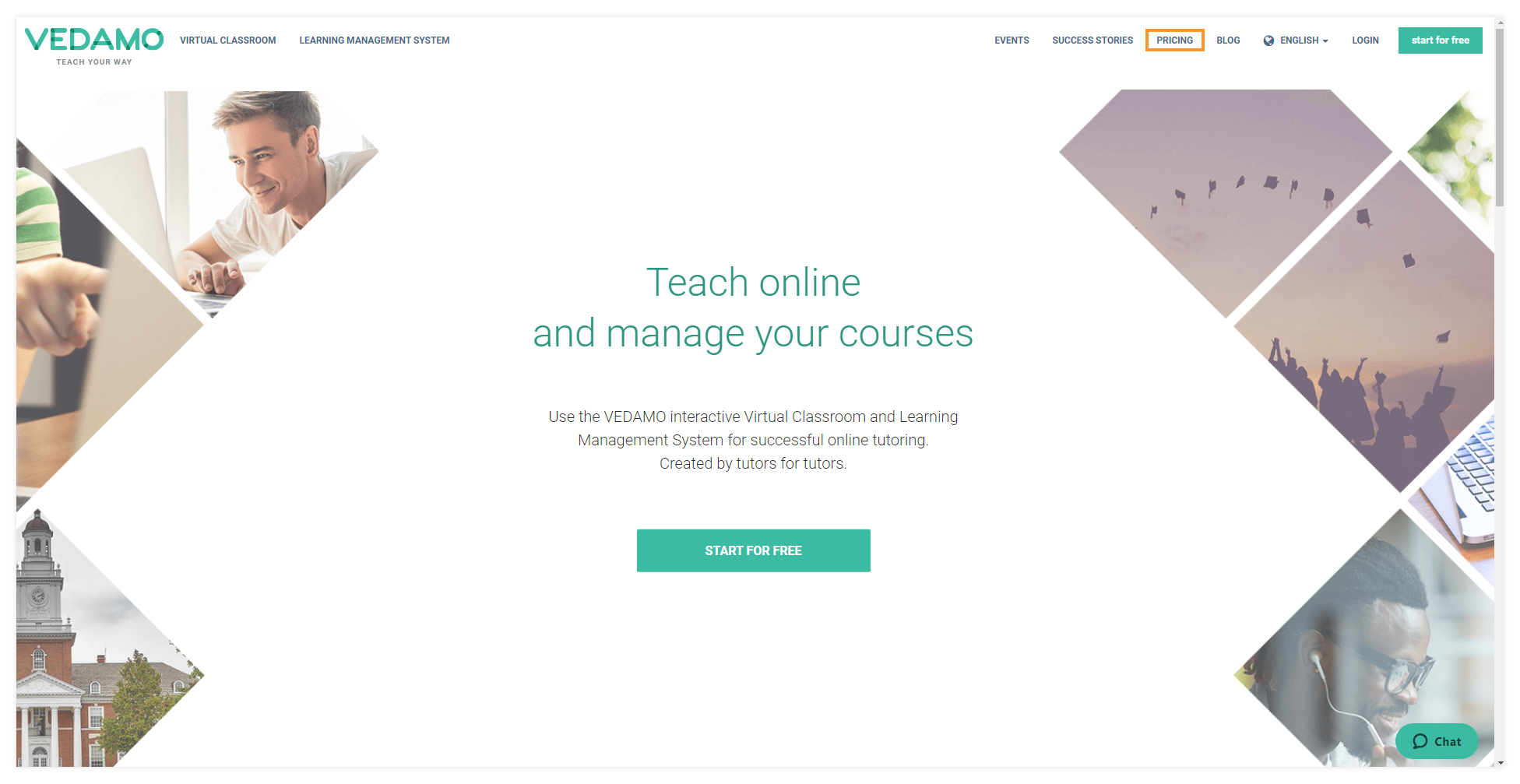 To create a free LMS account, scroll down to the LEARNING MANAGEMENT SYSTEM  section. Here you can see a list of FAQs about our LEARNING MANAGEMENT SYSTEM.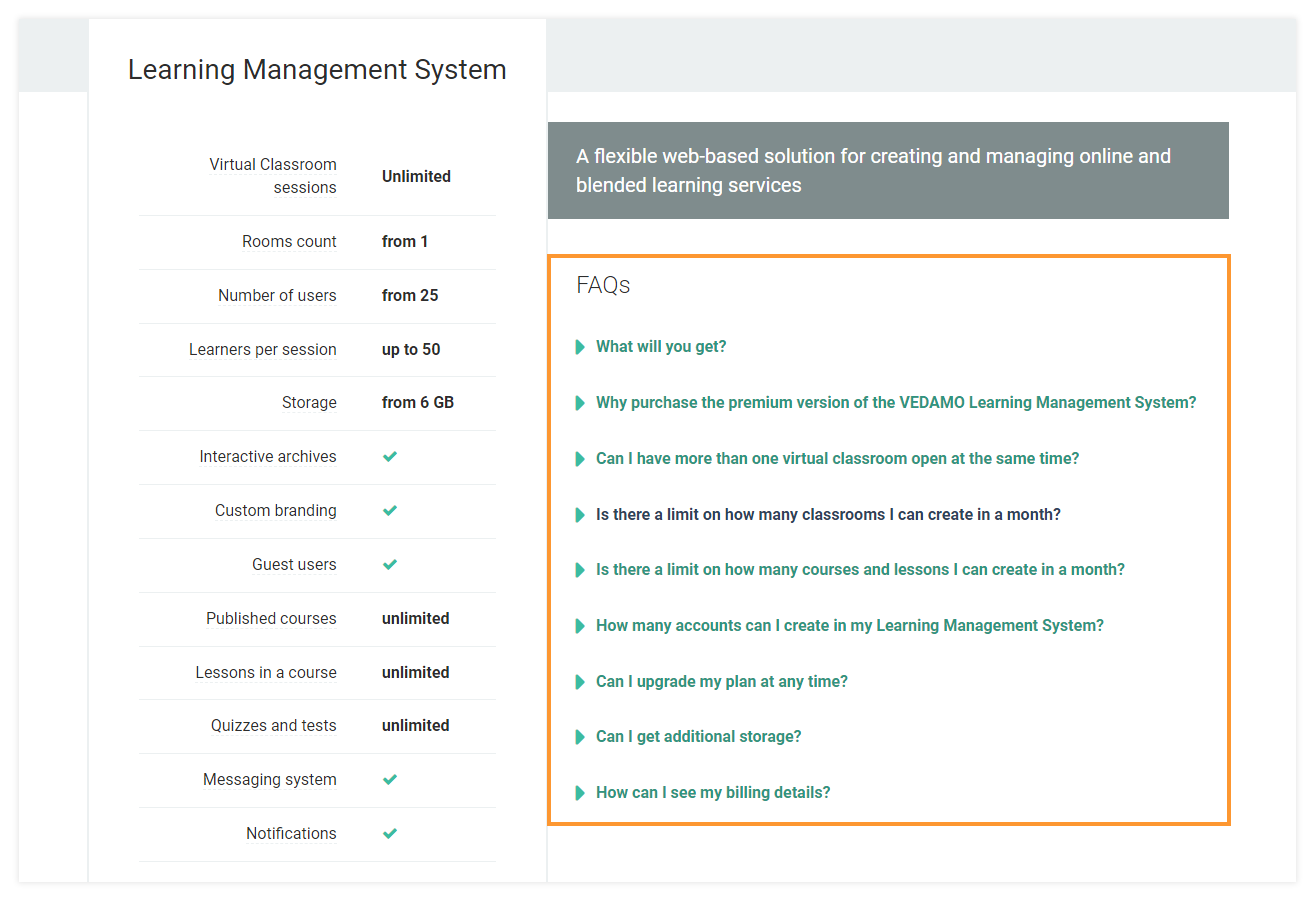 The features of the free learning management system are as follows:
One virtual classroom (1 teacher and 1 student)
Lets you open a virtual classroom where one teacher can conduct a lesson for one student.
Courses
You can create and to 5 courses.
Course lessons
Let's create up to 10 lessons per course.
User accounts
Allows you to register up to 10 user accounts on your LMS.
File Storage
Grants you 500 MB (0.5GB) of storage space, which you can use to upload learning materials to your file library.
Notifications
You and your students will receive automatic system notifications for events in the system (e.g. student subscribes to a course, upcoming lessons, etc. )
Once ready, please click on the TRY FOR FREE button (2) next to the FAQ (1) in order to initiate your registration.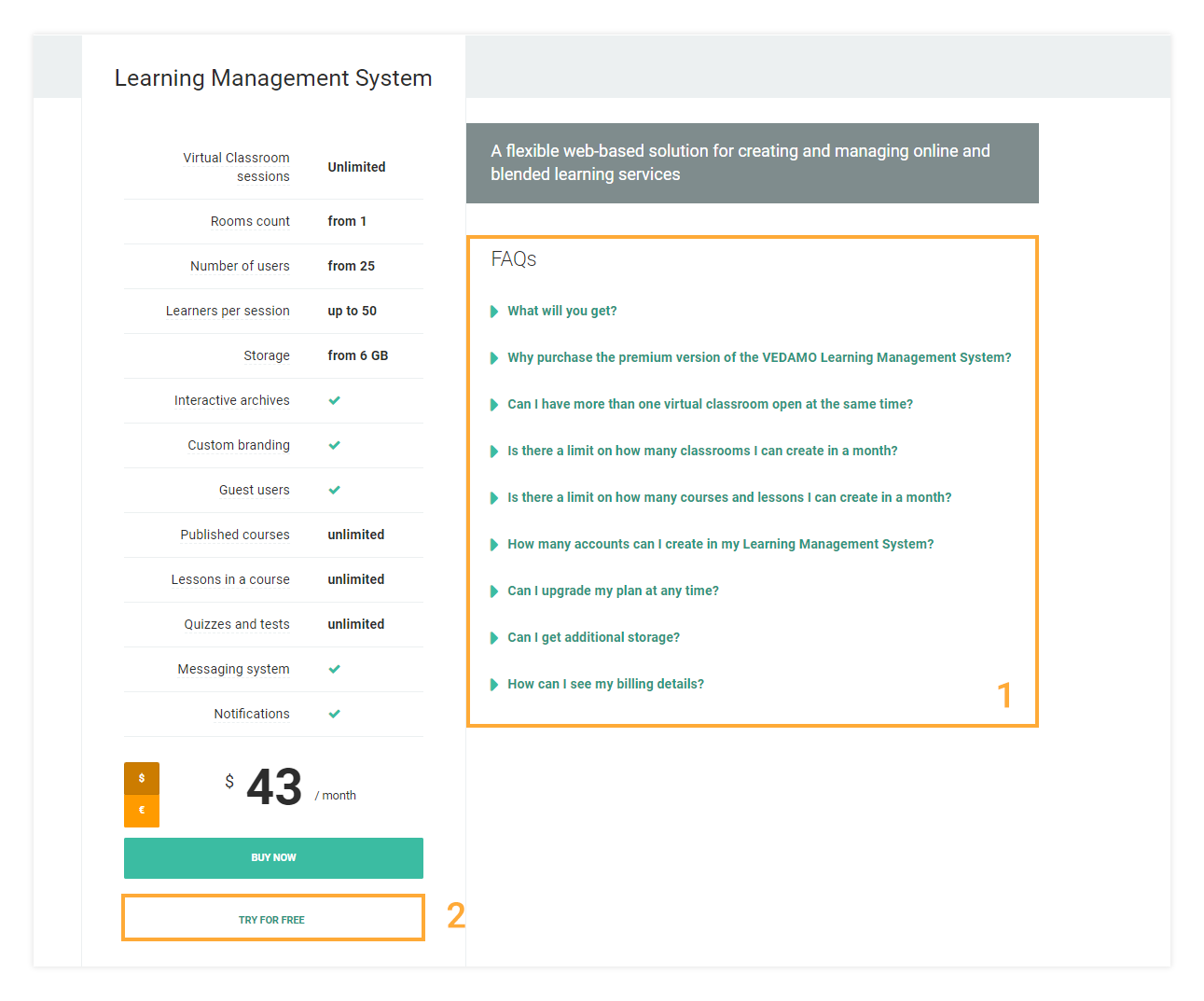 Learning Management System 

Free 30-day Trial Registration
If you select the FREE 30-DAY Trial version of the LMS you will see the following window: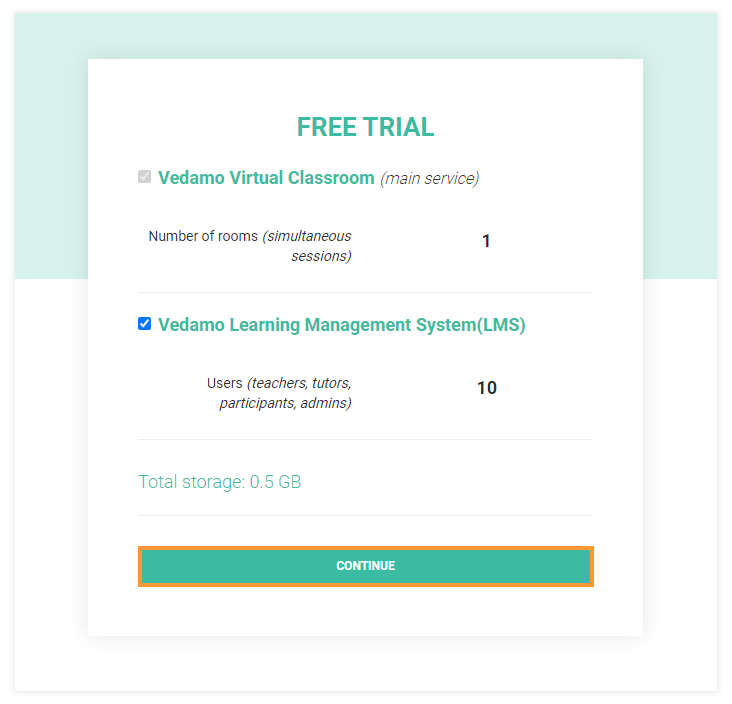 Fill in the rest of your personal details (1). You must fill in all fields in order to proceed with registering. The blue link also offers you the option of familiarizing yourself with the Vedamo Terms and policies of our website before proceeding. You will have to agree to the Vedamo Terms and policies (2) in order to select the Sign-up button (3).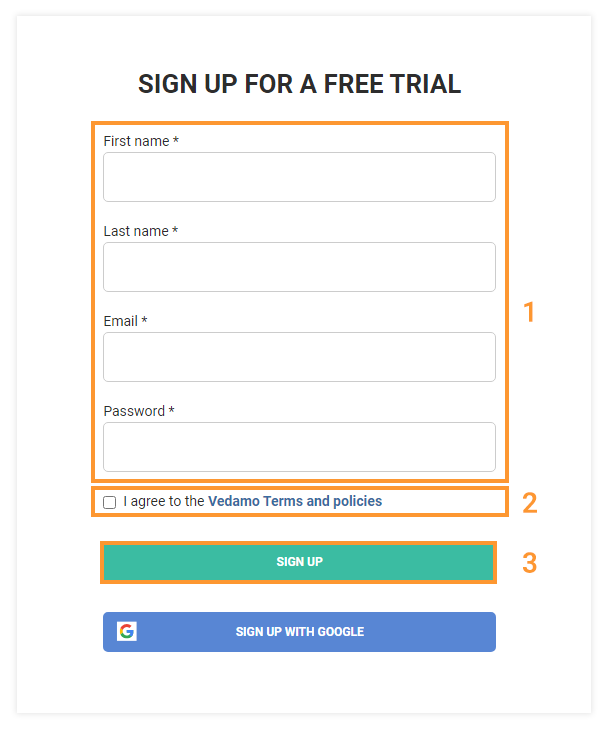 The system will prompt you to create a unique address name for your learning management system.
(e.g. typing in "mylms" will create the sub-domain mylms.vedamo.com)
Once done, you may continue to the next step of the process by clicking on the Continue button.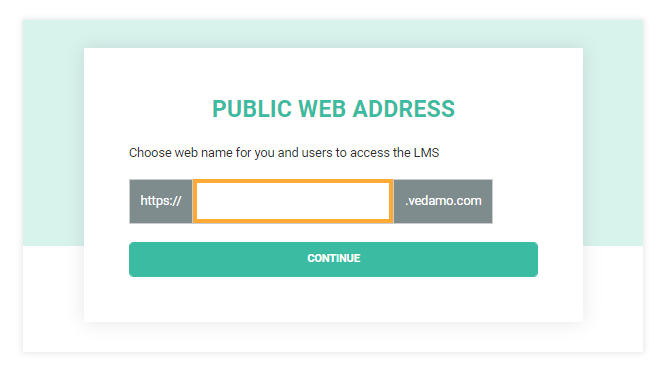 Finalizing your registration
After registering, check the email that you have used when setting up your account, there should be an email confirmation message.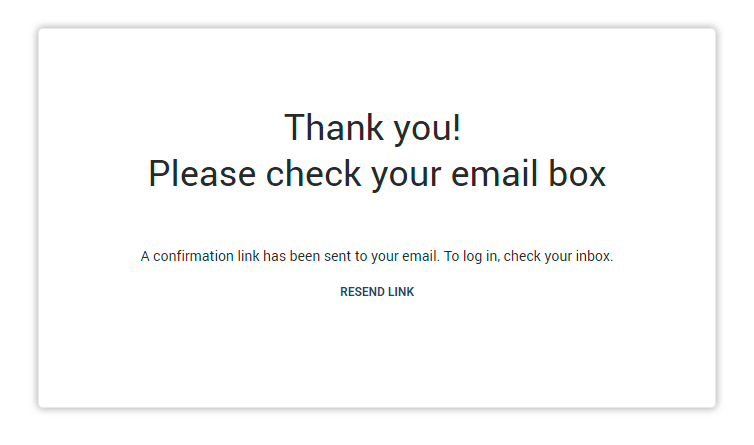 You should receive an email titled Verify Your Email address that contains a link. In order to make your account fully verified, you will need to follow the link or press Resend email.
The email should arrive within 5 minutes of registration. In case it does not, please check the Spam folder of your email inbox. If you cannot find it there, please contact our Support team via the Chat (Help) button on the bottom right corner of the screen or via email at support@vedamo.com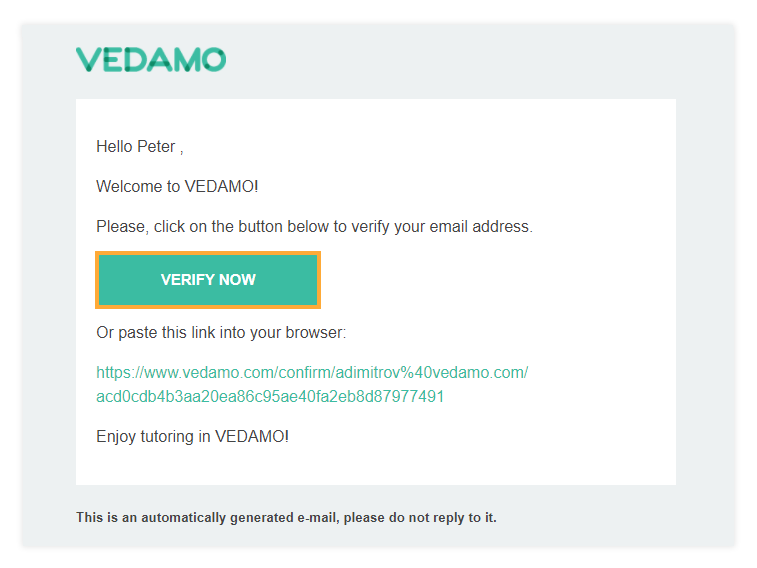 The account that the system creates for you is called an Organization account. This is the primary administrative account for your sub-domain. It has access to all of the functionalities of your LMS, such as account administration, course management, etc.
For more information on user roles and account permissions, you can check the user administration article by clicking the following link: User administration
Once you follow the confirmation link sent to you via email you enter your newly created LMS with your Organisation account and see your Dashboard.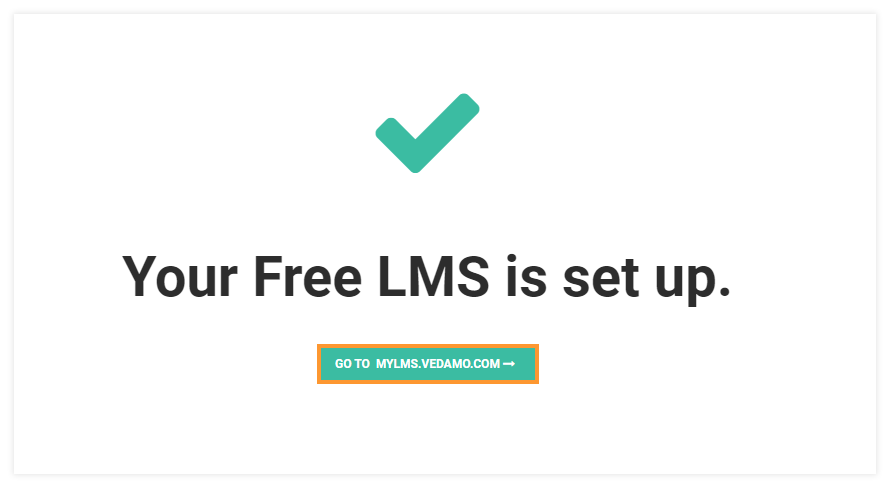 Once logged in your account in the upper corner will be located the option to upgrade to a Premium plan, if you wish to use the full LMS functionalities.