Description
As an organization, you have the option of editing the details and appearance of your LMS. The General Information menu under LMS Account and Settings allows you to adjust those, and more, settings for your organization.
Location
The menu can be accessed by clicking on Account & Settings in the left-side menu, and then on General information. The Menu is divided into two tabs: Organization details and Storage quotas.
Organization details and LMS Account and Settings
Once you click on General information, you will find yourself on the Organization details tab where you can edit your Learning Management System's settings.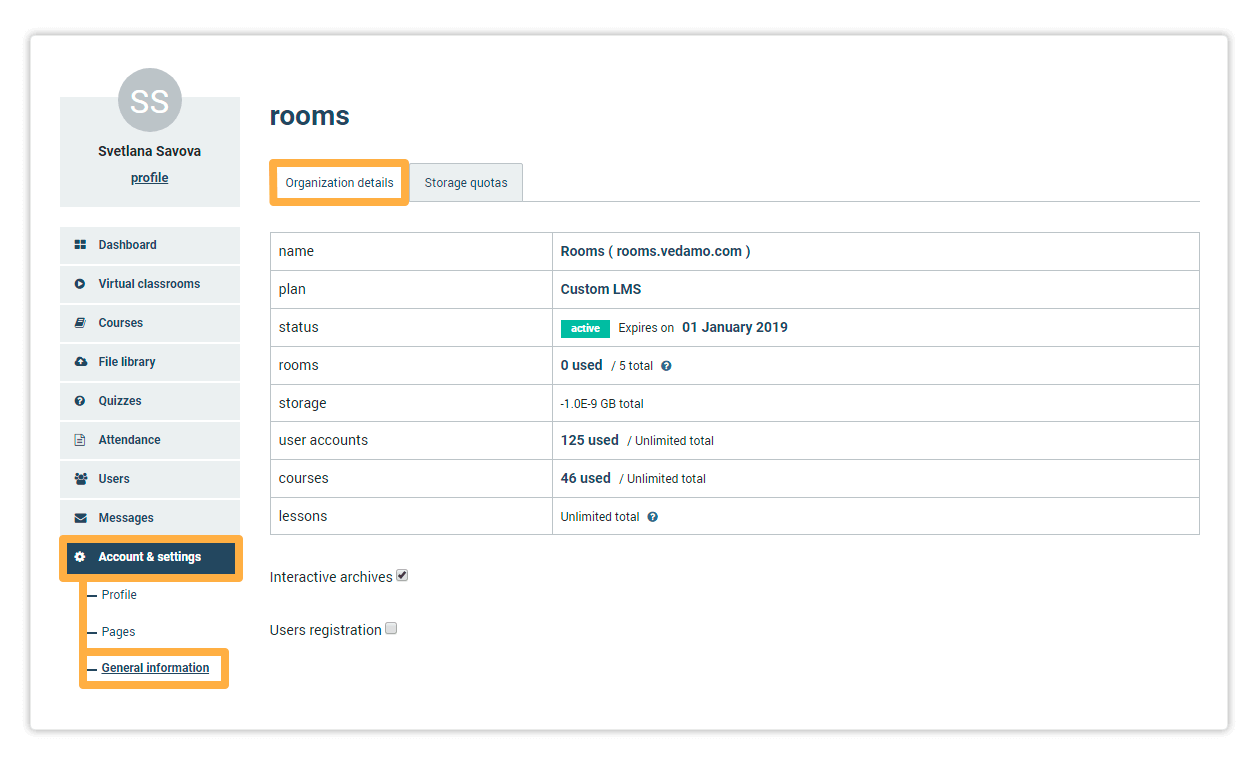 Subscription details
The first part of the Organization details page contains details regarding your plan. You can see the following details:
Name: the name and sub-domain of your LMS;
Plan: the type of plan you are subscribed for.
Status: this is the current status of your subscription plan, either active or expired. This field also allows you to upgrade your subscription, adding new features to your plan. You will also have the option of renewing the subscription,
Rooms: the first number shows you how many rooms are currently open in your LMS. The second number shows how many rooms you can open at the same time.
Storage: this shows you the amount of storage you can use for uploading files and keeping interactive recordings of your lesson.
User accounts: the first number is the number of accounts currently created
Courses: number of courses which you are allowed to create
Lessons: number of lessons which you are allowed to create
Organization settings
You get access to various settings if you have subscribed to the premium Learning Management System plan:
First, you can choose whether you want to keep recordings of your virtual classroom sessions. (only available if you have purchased one or more virtual classroom licence(s) Ticking the box means that you choose to keep the recordings. The default setting is ON.
The second option allows you to choose whether users can freely register for your academy. Ticking the box means that anyone who visits your subdomain will be able to see the Register button on the home page. Visitors can click on it and then register their account. The default setting is OFF.


NOTE: If you choose to leave this setting OFF, you can still create accounts for your students as an Organization or Administrator via the Users menu.


Third is Allow teachers to see all rooms in the room list. Teacher accounts normally see only rooms which they have opened when they go to the Virtual Classrooms menu, ticking the box next to Allow teachers to see all rooms in the room list lets accounts with teacher role in your academy see every room opened within the academy similar to administrator role view.
Next is the Subdomain field which shows you the name of your subdomain.
Next in the list are the Company logo and Favicon fields. The Upload logo button allows you to upload a custom logo for your academy. This will show up in the top left corner of your subdomain and replace the default VEDAMO logo. Upload favicon lets you upload an icon that will appear on the browser tab in which your academy is open and it replaces the regular Vedamo V icon that normally appears there
 Finally, the menu offers nine more fields that you can use to include additional company details.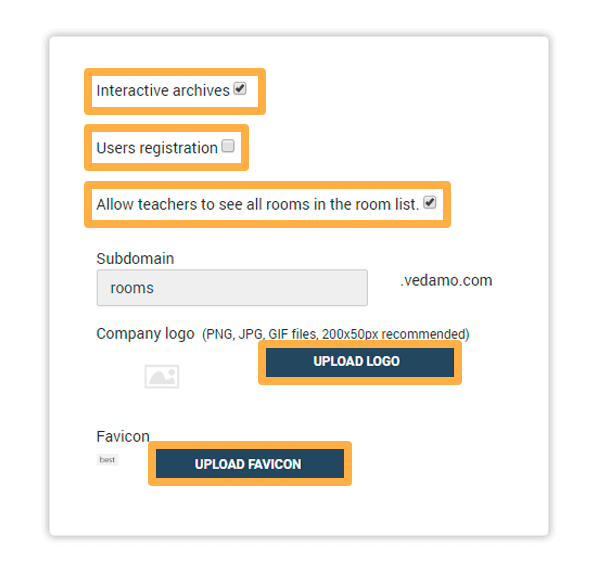 Storage quotas
Storage quotas is the second tab in the General Information menu. It allows you to distribute your total storage space between the different users in your academy. Your Organization account contains the full storage quota by default. The actual size of your quota depends on your current subscription package.  The Organization account can then transfer some of that quota to teachers' accounts as necessary.
FOR EXAMPLE: In the screenshot, you can see that this particular Organization account has a total quota of 6100 MB ( 6000 MB quota + 100 MB default; every Organization and Tutor account has a 100 MB quota by default. You cannot redistribute this). The Organization would like to increase the teacher's quota to 600 MB. To do that, they will need to type 500 into that teacher's box (you can also use the up/down arrows) and then click the Update button. The teacher's quota will now be 600 MB and the bar showing how much space they have remaining will now say 12.28 MB of 600 MB used. At the same time, the Organization's storage quota will drop by 500 MB and the bar on the Organization account's row will state 1422.16 MB of 5600 MB.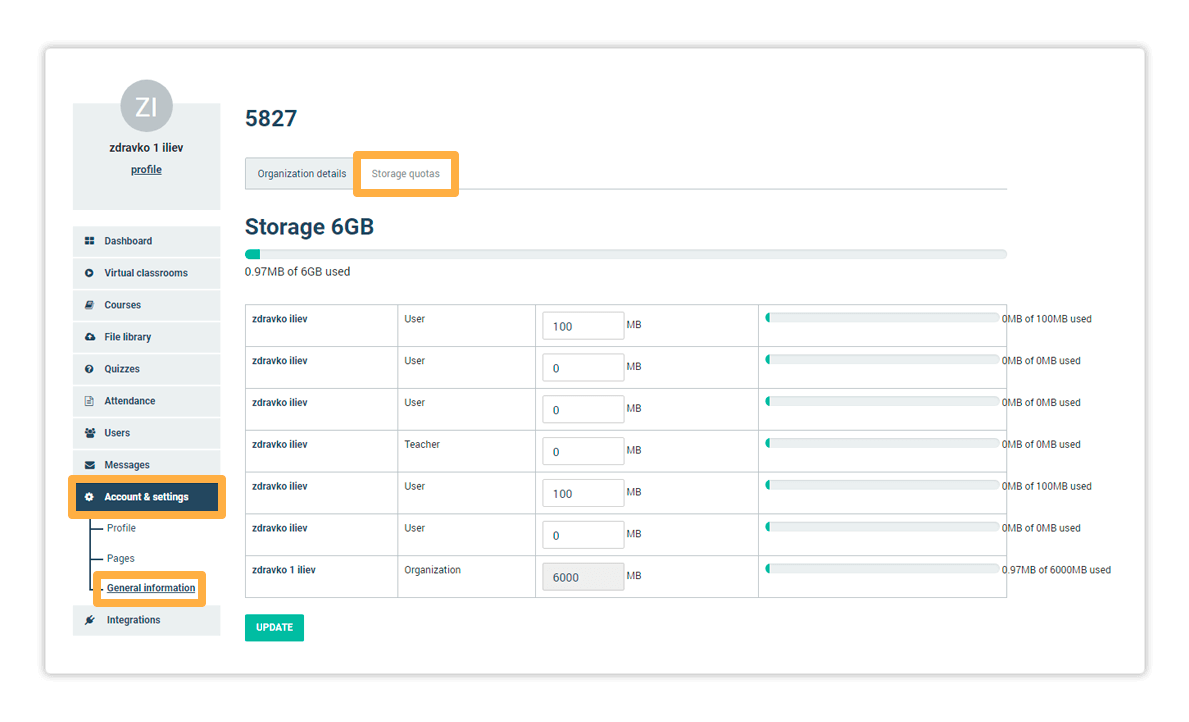 User approval
This functionality will let you choose whether or not user registration is allowed (if allowed, anyone can register in your academy, although only as a user by role).
If "Auto approve users registrations" is switched on all registrations won't need any approval they will be completed automatically. Otherwise (not checked) the registrations will display "pending" status until the organizational/admin account has approved them.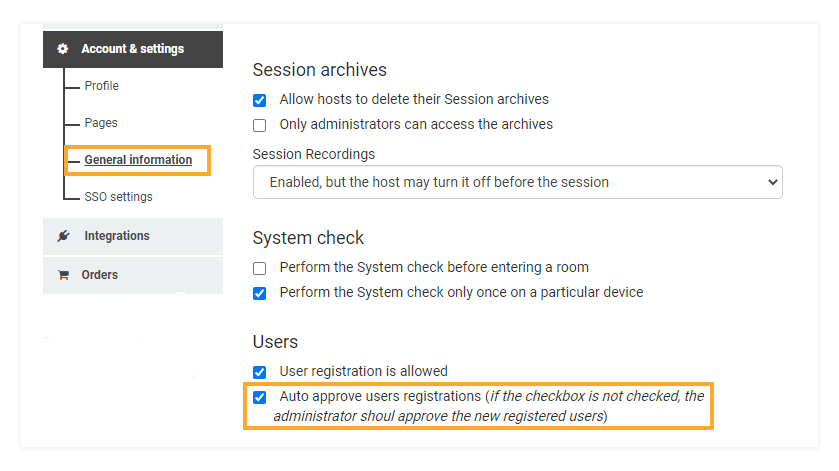 SSO (single sign-on)
Single sign-on (SSO) is an authentication scheme that allows a user to log in with a single ID and password to any of several related, yet independent, software systems. Single sign-on allows the user to log in once and access services without re-entering authentication factors.
Note: information provided from Wikipedia
At the moment the user can choose from the corresponding list:
-Google
-GG4L
-MON