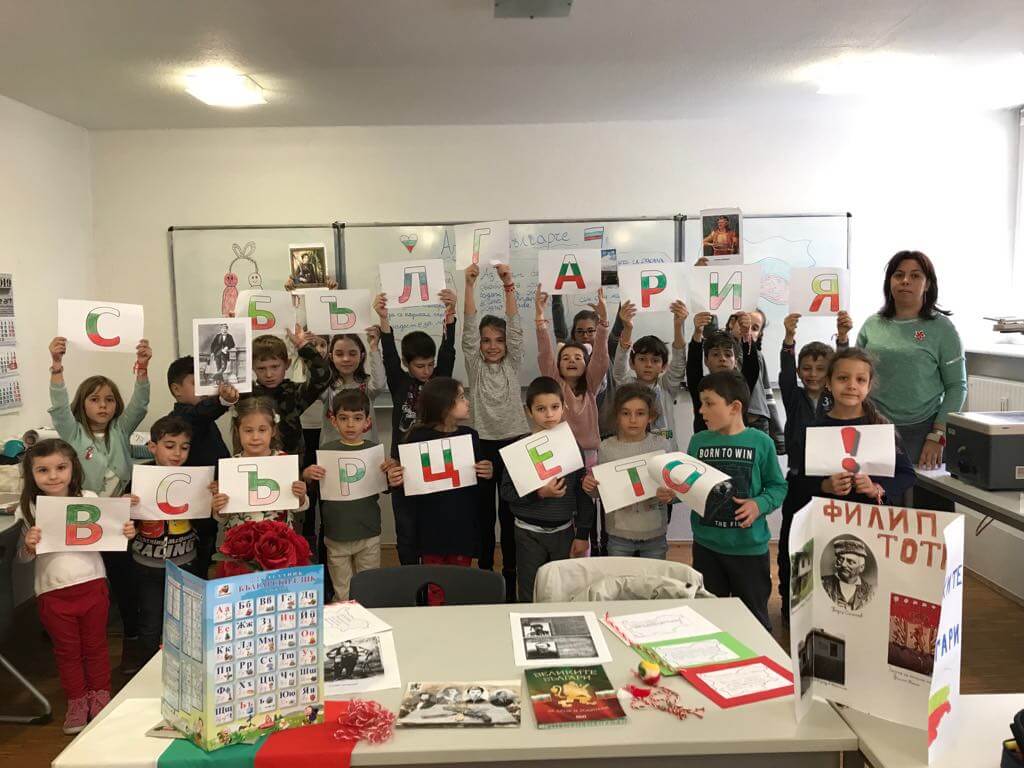 The Bulgarian Sunday School Ivan Vazov, Baden Württemberg was founded in 2015 by Mrs. Borislava Petrova. Before founding the school, Mrs. Petrova taught at a Bulgarian Sunday school in Munich and traveled 600 km every weekend. Over time, fatigue from the long commutes spurred her to explore options in the area where she lived. It turns out that there are many Bulgarians whose parents want their children to learn their mother tongue, and eventually get a certificate for it.
8 years ago, together with three volunteer mothers, Mrs. Petrova gathered 20 Bulgarian children in Konstanz. She started teaching them every Sunday. Trips are again necessary, but now 100-200 km, as the distances in the Baden-Württemberg region are great. After the first year, it became clear that what they had created was not just a classroom but a serious Sunday school for Bulgarian children in the region. Gradually they started to include children from neighbouring towns.
In 2017, the Sunday school in Baden-Württemberg was registered with the Ministry of Education. Mrs. Borislava Petrova also opened a second centre in Ludwigsburg with both centres covering pupils within a 400 km radius. Together with Mrs. Petrova, other colleagues – Margarita Raykova, Maria Yovcheva, Daniela Georgieva, Gergana Bozhurska, Svetlana Nikolova and other teachers from the region – teach at the school.
Currently, the two centers of the Bulgarian Sunday School teach more than 100 children and the staff consists of 8 teachers. In addition to the Bulgarian language, geography is also taught to students after 5th.
There is still no history teacher because they cannot find a teacher in the area who has a degree in education and meets the criteria. Instead, they have started a Patriotism club where they celebrate all holidays and keep the community spirit alive. The history of Bulgaria is woven into lessons in other subjects and teachers make sure children have a basic knowledge.
Mrs. Petrova has had an interest in online learning for a long time. Before leaving for Germany she taught at the Music School in Sofia. There, she used the platforms then available such as Skype and Messenger to help students, who often travel for various competitions, catch up gaps in their preparation in the Bulgarian language and literature. In Germany, Mrs. Petrova started looking for a solution for children who live a long distance from Sunday school centres yet when online learning was not regulated in legislation. This is how she found VEDAMO. The first attempts were with the implementation of mixed learning, in which the children are taught in person for two weeks and in the third week they learn online through the virtual classroom. At that time she also received support from the publishing house she was working with – they provided her with textbooks and manuals for the Bulgarian children abroad in electronic format. This makes online learning much easier as the children have paper textbooks and at the same time can work on the interactive whiteboard in VEDAMO.
What are the key benefits from using VEDAMO for Bulgarian Sunday School Ivan Vazov?
The Sunday School currently has both a daytime and online form of teaching. The school year runs from September to mid-July. Children in the day form are mainly taught by attending the school in 2 shifts and spend 5 astronomical hours a week in the centre. Children who are in the online form spend 30% of their school time in attendance – that is 1 physical visit to the centre per month. The rest of the time they have online lessons 2 times a week in VEDAMO – 4 lessons of 30 minutes each. They are taught in groups of up to 8 students.
Mixed learning allows the Bulgarian Sunday School Ivan Vazov not to lose a single lesson during the pandemic. When the schools close, Mrs. Petrova immediately makes a schedule and the students from day form are transferred to the virtual classroom without having to interrupt the learning process. The school has been using VEDAMO since the beginning and has found many benefits in the platform:
Quick and easy connection from different types of devices;
Installation of any additional programs is not required;
Students do not have to register – they can join the virtual room as guests;
When a child is unable to join the online lesson, the teacher can easily send them a recording afterwards;
Online learning is very interesting and engaging for students. Teachers can incorporate a wide variety of resources and materials into their lessons via the online whiteboard or shared screen. Additionally, teachers use YouTube videos as well as various interactive apps. All this motivates day-form students to also want to have this type of lesson at least once a month.