For over 20 years agileKRC has been a leading provider of agile training (Agile Project Management (AgilePM), Agile Business Analysis (AgileBA), Scrum, etc.) and consulting services in the UK. They work with professionals wanting to upgrade their skills and gain professional certification. Their students work in organizations that are moving to agile or have already started their agile journey. By offering a blend of training, coaching, and consultancy, agileKRC ensures that organizations benefit from all areas of agile and achieve a permanent and lasting change to their working practices.
What challenges did agileKRC face?
Before the COVID-19 pandemic, agileKRC did a lot of work with global companies with offices all over the world. Their consultants flew around the world to deliver agile training. Since the beginning of the lockdown in the spring of 2020 they needed to find a solution that would allow them to continue to deliver their training but without having to travel. They were looking for a solution that is:
Cost effective
Easy to use
Flexible and allows real-time interaction with their trainees.
Why did agileKRC choose VEDAMO?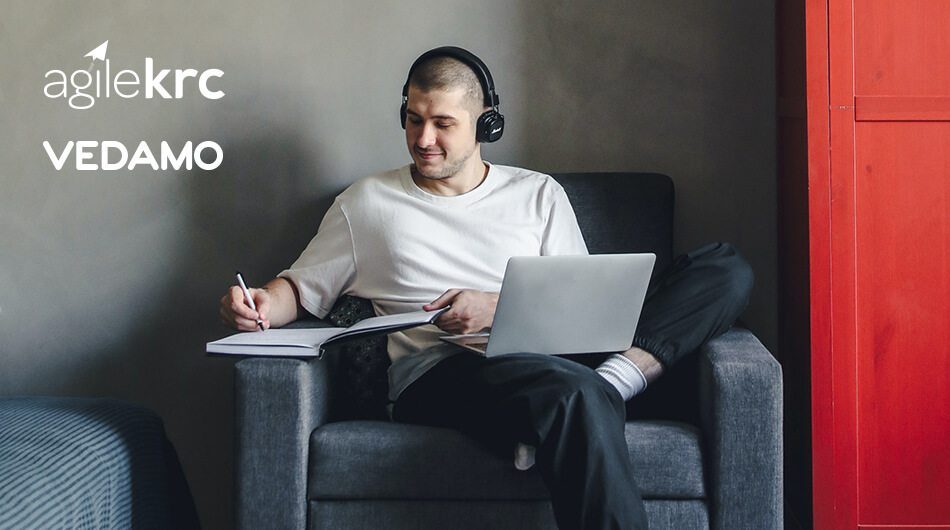 VEDAMO Virtual Classroom was the perfect match for agileKRC's needs and enabled them to continue to provide training to their clients during the pandemic. It also allowed them to reach a wider audience and work with students at any location.
VEDAMО Virtual Classroom enabled agileKRC's clients to continue developing and improving their skillsets online by offering tools for:
Real-time communication and discussion through videoconferencing;
Presenting ideas and collaborating on an online whiteboard
Small-group work activities in breakout rooms.
For some of agileKRC's clients with hundreds of offices around the world, virtual classroom learning will continue in the future because it offers huge cost savings over traditional classroom training, which requires consultants and students to travel long distances and stay in hotels in order to attend trainings.
Jay Gao, Operations Manager at agileKRC, explained the key benefits of using VEDAMO Virtual Classroom:
"VEDAMO is a perfect tool for us. It enables us to continue to service our clients' global training needs, whilst keeping both our consultants and our clients safe. It is also proving cost effective for our clients because staff in smaller locations can take part in the training using VEDAMO whereas previously they wouldn't have been able to join a class without the considerable expense of sending them to a training location and staying in hotels. In fact, some clients have already told us that for some of their future training, they would prefer to use a virtual classroom solution after the Covid pandemic is over."
Here is what one of agileKRC's customers shared:
"I was pleasantly surprised by my experience of a virtual classroom course with agileKRC. Before the course, my expectations of learning remotely using a software tool called VEDAMO were not high. However, I was proven to be wrong because the course turned out to be really good. The VEDAMO virtual learning tool enabled us to see the trainer talking on video, whilst watching him using the whiteboard at the same time. The trainer also divided up the class into smaller groups using breakout rooms, each with its own whiteboard. That meant we could work in small groups. I also liked the fact that I could ask questions any time using the chat feature. That proved popular because we could engage in discussion with the other students. Overall, the VEDAMO tool made the course a really good learning environment."
Paul Davies, Agile Project Manager, London, UK.