Virtual Classroom Templates

The Virtual Classroom Templates functionality allows you to save and reuse all the created sheets, uploaded files, created groups and files present in the media player.

Templates – Creation and Management

Templates  are a tool for teachers to save their room configuration including:
created sheets – all pages on the whiteboard in all groups;
uploaded files – everything you have uploaded;
created groups – the groups you have created and the sheets in them.
media player files –  the media files present in your media player, as well as their positions in the playlist.
Create a Template 
Only tutors have access to template creation, which they can only do from inside the room.
Create a new room;
Upload the files and materials you need;
Create as much content as you'll need for the lesson – sheets, groups, media playlist, etc.
Click on the Three dot sign then Session Templates and after that Create Templates to open the menu for the Virtual Classroom Templates. Enter template name and click on "Create template" to save your template.
When you save the template you will see it appear in the list.
WARNING: Templates will not save correctly if you hit the "Create" button before the files are fully processed and converted. Wait for the files to convert before creating the template.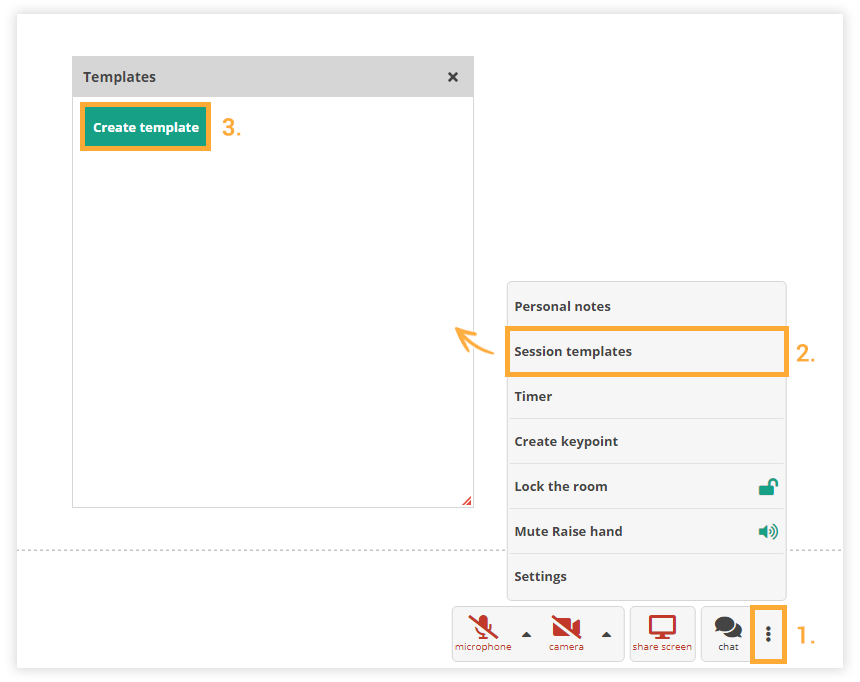 Load a Template
To load a template you need to enter a room (either new or reused).
Click on the Templates to view the list of the virtual classroom templates, then click on the one you wish to load, by using the "+" icon.
WARNING: Templates will not load if the files have not converted yet. This is why it's important that you wait for the files to convert.
Example: You upload a video file (or a .pdf with many pages) and the file is still processing  (there is no Play  or Add button next to it in your Upload box), then you save the template. You will only be able to load the template once the system has converted the files.